In December 2021, the Lok Sabha passed the Assisted Reproductive Technology (Regulation) Bill, 2020, to regulate assisted reproductive technology services, and sperm and egg banks that have mushroomed across the country.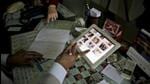 Updated on Aug 15, 2022 03:54 AM IST
Saravanan, who had quit DMK to join the BJP just a year ago, met Rajan on Saturday midnight following which he told reporters that he was mentally disturbed over the incident. He added that he was not at peace being in the BJP indulging in religious politics.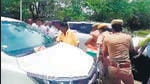 Updated on Aug 15, 2022 04:04 AM IST
On Saturday, five people were reportedly held for hurling slipper at Tamil Nadu finance minister's car at Madurai airport.

Updated on Aug 14, 2022 12:56 PM IST
Written by Manjiri Sachin Chitre | Edited by Swati Bhasin
The footwear was hurled at Tamil Nadu finance minister Palanivel Thiaga Rajan's vehicle in Madurai after he was returning from paying tributes to Indian Army soldier D Lakshmanan, who was recently killed in a terror attack in Jammu and Kashmir's Rajouri district.

Published on Aug 13, 2022 07:23 PM IST
Written by Sharangee Dutta | Edited by Aniruddha Dhar
, New Delhi
Tamil Nadu chief minister MK Stalin, however, refrained from speaking elaborately on the matter. Doing so, he said, will cause the issue to become politics.

Updated on Aug 13, 2022 06:34 PM IST
Written by Sharangee Dutta | Edited by Aniruddha Dhar
, New Delhi