Latest from uddhav thackeray
Fadnavis, the leader of opposition in the state assembly, launched the Bharatiya Janata Party's (BJP) campaign for the civic body elections across the state scheduled for later this year and asked people to vote out the Sena from the Brihanmumbai Municipal Corporation (BMC).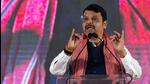 Maharashtra chief minister Uddhav Thackeray also attacked former ally BJP on inflation, saying that the Sena wasted 25 years due to alliance with the saffron party.

Daring the Maharashtra CM, the independent MP from Amravati said her 'win' would teach him a lesson in 'people's power'.

Political slugfest broke out in Maharashtra on Saturday over Ravi Rana and Navneet Rana's plan to chant Hanuman Chalisa outside the residence of Udhav Thackeray. Later, they were arrested.

Navneet and Ravi Rana had declared they would recite the 'Hanuman Chalisa' in front of 'Matoshree', the home of Maharashtra chief minister Uddhav Thackeray, at 9 am Saturday.