Compared to democracies such as Australia, Britain, New Zealand and South Africa­, which had gun massacre incidents of their own but managed to legislate and reduce the supply of weapons, the US is more extreme in terms of corporate power, social fragmentation and ideological schisms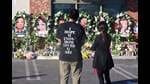 Updated on Feb 06, 2023 09:52 AM IST
Officers were called to the Poplar-White Station Public Library around 12:30 p.m., the Memphis Police Department tweeted. Both the person and the officer were shot, police said.

Published on Feb 03, 2023 03:33 AM IST
The dismaying episode came on the heels of two mass shootings in California that have left 18 people dead as the United States grapples yet again with the horror of spiraling gun violence. Man who killed three in Washington state shoots himself dead: police

Published on Jan 25, 2023 02:13 PM IST
The man was named as 72-year-old Huu Can Tran.


Updated on Jan 23, 2023 07:27 AM IST
Three Baton Rouge police officers were nearby when the shots were fired around 1.30 am and responded to the Dior Bar & Lounge. They administered life-saving aid until emergency medical technicians arrived.


Updated on Jan 23, 2023 05:51 AM IST