Game of Thrones: Lena Headey feels bad for killing Missandei, says 'I didn't like that day up there'. See pics, video
Game of Thrones actor Lena Headey, who played Cersei Lannister, shared heartfelt notes for her co-stars.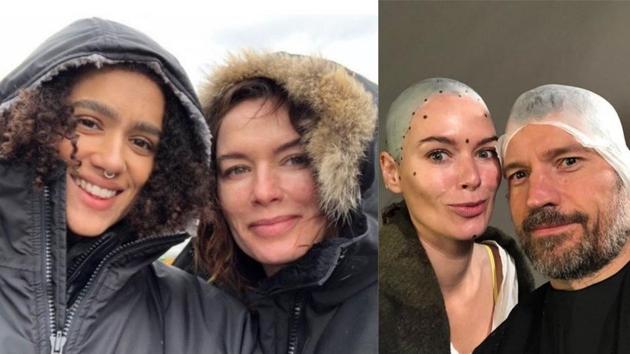 Updated on May 15, 2019 07:38 PM IST
Game of Thrones actor Lena Headey, better known as Cersei Lannister, has posted heartfelt notes for her co-stars - including one for Missandei (Nathalie Emmanuel) whom Cersei killed in the fourth episode of the final season.
Sharing a picture with Nathalie who was beheaded by The Mountain on Cersei's orders, Lena wrote, "Beautiful @nathalieemmanuel You represented hope and true strength. I didn't like that day up there." Nathalie replied to the post saying, "Thank you Lena! You are an inspiration."
+ +
Lena also shared a behind the scene picture with Jaime signifying their close bond in real life. She captioned it, "When @nikolajwilliamcw and I wore jellyfish ... I fucking love you ya big weirdo." Nikolaj also shared a behind the scene picture from their final moments on the show with the caption, "The best, sweetest most wonderful sister from another mother @iamlenaheadey . That was a fun decade."
+ +
+ +
Lena had also shared a short video from the sets with Euron Greyjoy sitting in the background and saying "hi" to the camera. She tells the viewers in the video, "The thing is...it's non-stop glamour."
+ +
Lena had earlier shared a monochrome picture of her to share her thoughts about her experience on the show. She wrote with it, "There she goes. It's been fun, and bonkers . I loved her. I am grateful for the opportunity. Massively thankful for your encouraging and supportive love along the way. And now her watch is ended (I know she'd never make it, Nights watch wouldn't have her .. but still..)."
+ +
Also read: Priyanka Chopra's brother Siddharth's ex-fiancee Ishita returns to London, thanks mom for supporting her decisions
Many celebrities and fans hailed Lena calling her the best villain on screen. Actor Eugene Simon, who played Lena's cousin Lancel Lannister on the show, reacted to the picture saying, "To the best cousin-villain a Lannister could ever have! Big love to you Queen Lena and here's to the legendary list of Lannister's now happily buried underground! love love love love to you Lena and for the last time #sevenblessings cousin!" Lancel had turned into a Sparrow on the show was killed in the wildfire blast at the Sept of Baelor, orchestrated by Cersei.
Follow @htshowbiz for more
Close Story