China warns Japan after its PM refers to Taiwan as a 'country'
Yoshihide Suga had referred to Taiwan as a country during a meeting of National Diet, the country's bicameral legislature on Wednesday.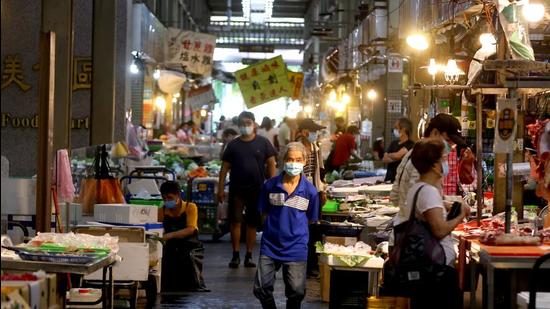 Updated on Jun 10, 2021 08:25 PM IST
Sutirtho Patranobis I Edited by Amit Chanda
China on Thursday said it has lodged stern protests and warned Japan after its Prime Minister Yoshihide Suga made a rare reference to Taiwan as a country during a parliamentary meeting a day before.
China accused Japan of severely breaching its pledge not to refer to self-ruled Taiwan as a country, which Beijing sees as a breakaway region to be reunited, if required, by force.
Suga had referred to Taiwan as a country during a meeting of National Diet, the country's bicameral legislature on Wednesday.
In his first one-on-one parliamentary debate with opposition leaders on Wednesday, Suga, naming Australia, New Zealand, and Taiwan, said "such three countries have been imposing strong restrictions on privacy rights" to curb the novel coronavirus outbreak, Kyodo news agency said in its report from Tokyo.
The reference evoked strong response from Beijing, which is against foreign countries having diplomatic ties with Taiwan or even referring to the island as a country.
"Japanese leaders flagrantly refer to Taiwan as a 'country' on multiple occasions, severely violating principles set out in the four political documents including the Sino-Japanese Joint Statement and its solemn and repeated commitment of not seeing Taiwan as a country," Chinese foreign ministry spokesperson Wang Wenbin said on Thursday.
"China is strongly dissatisfied with Japan's wrong remarks and has lodged solemn representation to the Japanese side," Wang said, adding: "We ask Japan to make prompt clarification, remove the severe damage and ensure that such things won't happen again."
Urging the Japanese side to "earnestly honour its commitment", Wang said Tokyo should avoid undermining China's sovereignty in any form and refrain from sending any wrong signal to the "Taiwan independence" forces.
Wang emphasised that there is only "one China" in the world and "Taiwan is an inalienable part of Chinese territory".
Since Japan broke off diplomatic ties with Taiwan in 1972, successive Japanese governments have usually called Taiwan a region, in accordance with its "one-China" policy.
Japan-Taiwan ties recently, however, have shown signs of warming especially after Tokyo last week donated 1.24 million Covid-19 vaccine doses to help tackle the rising number of cases on the island.
Taiwan's President Tsai Ing-wen thanked Japan for supplying "timely assistance", calling Tokyo "a partner insisting on the same values of freedom and democracy".
In April, a joint statement after a summit between US President Joe Biden and Suga referred to the "importance of peace and stability in the Taiwan Strait".
"The meeting was Biden's first in-person meeting with a foreign head of state since taking office and was in line with the US administration's efforts to rally its partners in the Indo-Pacific to counter China's growing influence in the region. Notably, the statement was the first issued by leaders of the two countries to mention Taiwan since 1969," Taiwan News reported.
Ties between China and Japan are themselves fraught with the history of colonialism and maritime disputes with differences flaring frequently.
Close Story
Personalise your news feed. Follow trending topics