Chinese spy balloon intruded into Canadian territory: Ottawa
Feb 05, 2023 11:15 AM IST
Canadian media reported that the country's foreign ministry, Global Affairs Canada, has summoned Beijing's Ambassador in Ottawa in this regard
Toronto: The Chinese spy balloon that was shot down over coastal waters in the US had also transgressed over Canadian territory, Ottawa formally acknowledged for the first time on Saturday.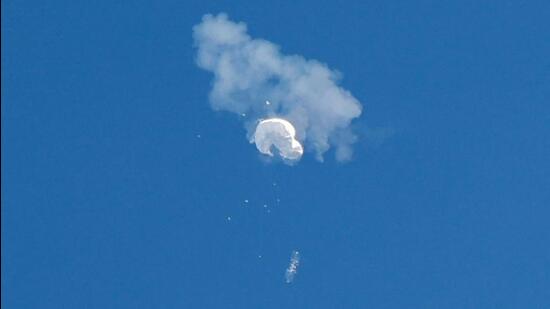 That admission came in the form a tweet from Canadian Prime Minister Justin Trudeau responding to the American action. He said, "Today, the United States brought down China's high-altitude surveillance balloon that violated American and Canadian airspace and international law."
He added that Canada "strongly supports this action".
A similar statement was also issued by Canada's Minister of National Defence Anita Anand.
She said Trudeau had been briefed over the upcoming American action on Friday by Canada's National Security and Intelligence Advisor and the Chief of the Defence Staff.
"Officials in the national security community have been working bi-nationally and Canada has been closely engaged with its US counterparts on the decision and unequivocally supports the actions taken. Canada thanks the United States for its close collaboration," she said.
The bi-national North American Aerospace Defense Command (NORAD) had been tracking and analysing the trajectory and actions of the balloon.
The issue was first highlighted by her department on Thursday, even as there were reports the balloon had been spotted over the state of Montana in the US. That statement didn't mention the balloon's intrusion into Canadian airspace but said its intelligence agencies were working with American partners and "continue to take all necessary measures to safeguard Canada's sensitive information from foreign intelligence threats".
Canadian media reported that the country's foreign ministry, Global Affairs Canada, had summoned Beijing's Ambassador in Ottawa in this regard.
While Ottawa's admission came on Saturday, the outlet Global News reported a day earlier that pilots overflying several provinces had been warned about an "untethered balloon".
That warning came on Thursday as pilots coming into or departing from several airports, including those in Toronto and Montreal, were alerted to exercise "vigilance".