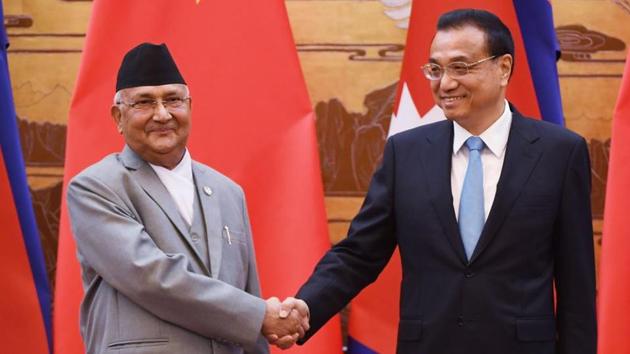 Nepal, China begin joint military exercises
Hindustan Times, Kathmandu | By Anil Giri
UPDATED ON SEP 17, 2018 11:19 PM IST
Days after pulling out of the Bimstec joint military exercise in India at the last minute, the Nepal Army on Monday began its second wargame with the Chinese military at Chengdu.
The "Sagarmatha Friendship-2" military exercise in China's Sichuan province will last 10 days. Both sides have fielded a platoon for the drill that will focus on counter-terrorism and disaster management.
Amid widespread criticism, Nepal pulled out of the first Bimstec military exercise, which concluded in Pune on Sunday. Observers in New Delhi said Nepal's decision not to participate amounted to a "diplomatic loss" for India.
Three officials familiar with developments in Kathmandu said Nepal's absence at the Bimstec military exercise was due to a "procedural failure" on the part of both Nepal and India.
"India's unilateral decision and announcement about conducting the drill was responsible for Nepal's cancellation, but it was our procedure lapse too," one official said.
After Nepal's said it would not join the exercise in Pune, foreign minister Pradeep Gyawali said the proposal for the joint drill did not come up at any level at the Bimstec Summit in Kathmandu during August 30-31. In view of its close security ties with India, Nepal sent an observer for the drill.
"If India had circulated the proposal through the Dhaka-based Bimstec Secretariat to member states, none of them would have skipped the drill like Nepal and Thailand did," the official said.
The Nepal Army, which received the proposal from the Indian side, did not consult other stakeholders such as the Prime Minister's Office, the foreign minister or the cabinet. "On our side it was purely a procedure lapse and a lack of coordination among state agencies," the official added.
With sections of the media describing the Bimstec drill as an effort to "show up China and isolate Pakistan", commentators and editorials in Nepal urged the government not to take part in any exercise that could jeopardise Nepal's ties with other nations and turn Bimstec into a "military bloc".
"When it became public that the Nepal Army had not consulted even the defence ministry prior to the Bimstec Summit, it caused embarrassment for us. If the army had consulted others before the controversy erupted in Kathmandu, the matter could have been discussed at the top political level and sorted out in time," a second official said.
The third official said the Indian media's coverage of the Bimstec exercise did not go down well in Kathmandu. "At a time when Saarc is not moving, comments in the Indian media on the Bimstec military drill triggered a controversy, especially since Nepal is the chair of both regional organizations," the official said.
Close