Pharma CEO quits US advisory panel, Trump lashes out at him
Donald Trump has criticised Merck & Co CEO Ken Frazier, an African-American, after he resigned from the President's Manufacturing Council over the President's failure to criticise white supremacists.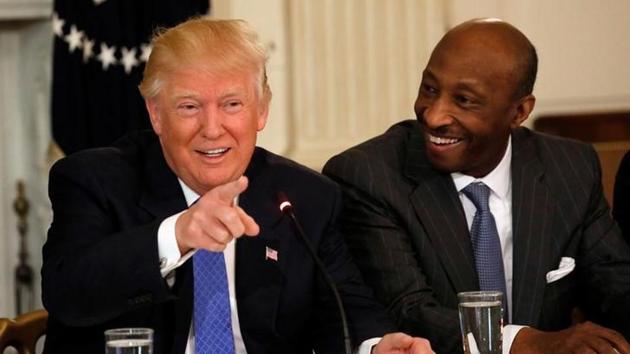 Updated on Aug 15, 2017 04:03 PM IST
Hindustan Times, Washington |
, Washington
Yashwant Raj
Donald Trump has lashed out against the CEO of a major pharmaceutical company who resigned from a federal advisory panel over the US President's failure to unequivocally criticise white supremacists widely blamed for recent race clashes that claimed three lives.
Trump, resisting mounting pressure even from fellow Republicans to offer a more muscular condemnation, said of the resignation, "Now that Ken Frazier of Merck Pharma has resigned from President's Manufacturing Council, he will have more time to LOWER RIPOFF DRUG PRICES!"
Frazier, who is African American, resigned on Monday morning from the council, the principal private sector panel advising the secretary of commerce, saying, "America's leaders must honor our fundamental values by clearly rejecting expressions of hatred, bigotry and group supremacy, which run counter to the American ideal that all people are created equal."
Frazier is the latest CEO to resign from an advisory role in the Trump administration, joining Tesla's Elon Musk, who left after the president withdrew the US from the Paris Agreement, and Walt Disney's Robert Iger, who left as a matter of principle.
"As CEO of Merck, and as a matter of personal conscience, I feel a responsibility to take a stand against intolerance and extremism," Frazier said in the statement.
The problem is Trump doesn't feel the same way, evidently, and has refused to offer a more direct condemnation of white supremacists, most of whom voted for him in the elections and lose no opportunity to remind him of it, if on the rare occasion he forgot or distanced himself from them.
"I would recommend you take a good look in the mirror & remember it was White Americans who put you in the presidency, not radical leftists," David Duke, a former leader of the Ku Klux Klan and a Trump supporter, tweeted after Trump tweeted a tame appeal for unity on Saturday.
In brief remarks later the same day, Trump said "many sides" were responsible for the violence, which critics said spared white supremacists and sought to spread the blame to counter-protestors. And which many among white supremacists and the Alt-Right said was a criticism of the counter-protestors.
Even Republicans were appalled and urged Trump to do more. One of the most poignant was the appeal from Senator Orrin Hatch, who tweeted, "We should call evil by its name. My brother didn't give his life fighting Hitler for Nazi ideas to go unchallenged here at home."
Instead of condemning neo-Nazis, white supremacists and KKK members whose rally in Charlottesville — to protest against the remove of a statue of Robert E Lee, the general who led the confederates in the American Civil War — started the clashes, Trump has gone after Frazier.
The White House clarified in a statement from an unidentified official that Trump "condemns all forms of violence, bigotry, and hatred. Of course that includes white supremacists, KKK neo-Nazi and all extremist groups. He called for national unity and bringing all Americans together."
But Trump had himself not said so yet, publicly.
Close Story