Putin open to talks, won't pull out of Ukraine: Kremlin, day after Biden remarks
Dec 02, 2022 05:48 PM IST
Russia-Ukraine War: Finding a mutual basis for talks is difficult as the United States does not recognise the "new territories" in Ukraine, Kremlin said.
Russian president Vladimir Putin is open to talks on a possible settlement to the conflict in Ukraine and believes in a diplomatic solution, the Kremlin said. The comments came in response to US president Joe Biden's suggestion that he was prepared to speak to the Russian leader.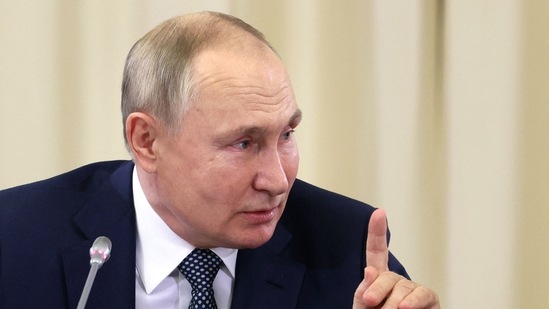 Earlier Joe Biden, speaking beside French president Emmanuel Macron, said the only way to end the war in Ukraine was for Vladimir Putin to pull troops out and that if he was looking to end the conflict then Joe Biden would be prepared to speak to the Kremlin chief.
Kremlin spokesman Dmitry Peskov asserted that Vladimir Putin remained open to negotiations but that Russia would not pull out of Ukraine.
Watch: Joe Biden's awkward 42-second handshake with France's Macron
"The president of the Russian Federation has always been, is and remains open to negotiations in order to ensure our interests," Dmitry Peskov said.
The Kremlin also said that Vladimir Putin said that he has no regrets about invading Ukraine and considers it a watershed moment when Russia finally stood up to "arrogant" Western hegemony.
Dmitry Peskov said that the refusal of the United States to recognise "the new territories" as Russian was hindering a search for any compromise.
"In essence, that's what Biden said. He said that negotiations are possible only after Putin leaves Ukraine," Dmitry Peskov said adding that the Russian military operation would continue in Ukraine.
"But at the same time - it is very important to give this in conjunction – President Putin has been, is and remains open for contacts, for negotiations. Of course, the most preferable way to achieve our interests is through peaceful, diplomatic means," he said.