One-third of world economy to be in recession: IMF chief's dire warning
Jan 02, 2023 01:45 PM IST
World Recession: "We expect one-third of the world economy to be in recession," Kristalina Georgieva said.
International Monetary Fund (IMF) managing director Kristalina Georgieva warned that the global economy will face "a tough year, tougher than the year we leave behind."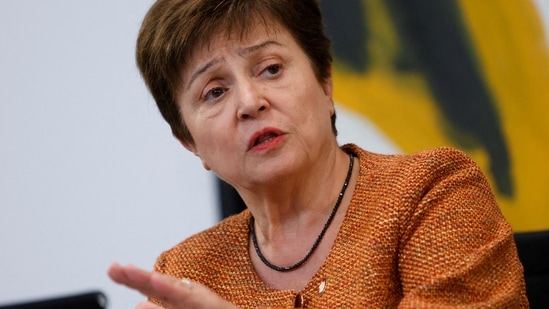 Read more: Canada bans foreigners from buying residential properties. There are exceptions
"We expect one-third of the world economy to be in recession," Kristalina Georgieva told CBS in an interview.
"Why? Because the three big economies — US, EU, China — are all slowing down simultaneously,"
Earlier, the IMF warned in October that more than a third of the global economy will contract adding that there is a 25% chance of global GDP growing by less than 2% in 2023. This is defined as a global recession.
Read more: Dubai's abrupt change on alcohol, U-turn on personal liquor licence: Here's why
Examining the three biggest economies in the interview, Kristalina Georgieva painted a mixed picture of their ability to withstand the downturn.
While "the US may avoid recession," the European Union has been "very severely hit by the war in Ukraine — half of the EU will be in recession next year," she said.
Read more: New York approves composting of human bodies: All you need to know
At the same time China faces a "tough year", she adding, saying, "That translates into negative trends globally — when we look at the emerging markets in developing economies, there, the picture is even direr."
Still, the outlook for US- world's largest economy- may offer some respite, she said.
"If that resilience of the labor market in the US holds, the US would help the world to get through a very difficult year," Kristalina Georgieva said.