Fighting hunger is India's greatest challenge
Apr 20, 2018 06:49 PM IST
More than 250 million Indians remain food insecure, ingesting less than 2,100 calories every day
The stories from India's hinterland on hunger are woeful in themselves. Earlier this year, a 13-year-old girl from Lakhimpur in Uttar Pradesh hanged herself after starving for more than two days – her father had passed away and her mother had found no work as a labourer. In the same week, a tribal youth in Kerala was beaten to death for stealing a kilo of rice from a grocery store. He had earlier resorted to begging and then to stealing; when caught, he was severely beaten and later succumbed to his injuries.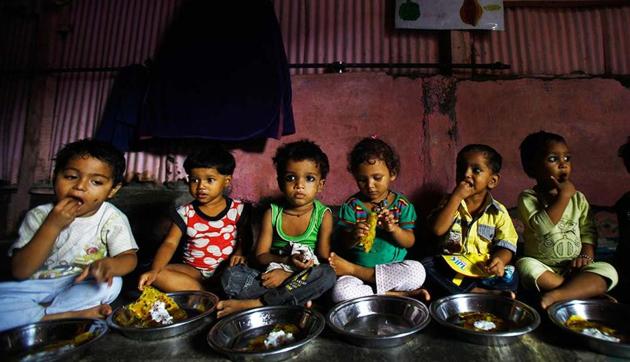 More than 14.5% of our population is considered as undernourished, says the Global Hunger Index, 2017, with 21% children suffering from acute malnutrition, while 38.4% of children under the age of five suffer from stunting. This is reflected in the height of our children (children born in India are on average shorter than those in sub-Saharan Africa). More than 250 million Indians remain food insecure, ingesting less than 2,100 calories every day. As the Planning Commission put it in the Human Development Report, 2012: "If India is not in a state of famine, it is quite clearly in a state of chronic hunger."
It's not that policymakers don't recognise this. Along with the Right to Food Bill, the landmark PUCL vs Union of India case (2001) has seen more than 60 orders over the last decade – but this judicial activism has failed to translate into execution on the ground. This is owing to three key systemic factors. First, there is little institutional will to execute reforms that lead to better food delivery nationally, despite extensive legislation. Second, our food policy has focused on making cereals widely available even as the Food Corporation of India's warehouses continue to leak away our agricultural surplus. Finally, the low social status of women has kept them ill-nourished. This, combined with open defecation has taken its toll on women and on children.
This complex issue is not unsolvable – a variety of countries and states offer a template. South Africa, like India, has sought to explicitly guarantee a right to food, while Brazil has utilised its Fome Zero programme to provide three square meals to its people. This is backed by an institutional commitment, which has led to the consolidation of more than 31 food welfare programmes. Brazil has also allowed public prosecutors to take up the issue of hunger as a violation of human rights at the local level. Meanwhile, Uganda has sought to confer a legal responsibility for food security on the head of the household with penalties for malnutrition. It has combined this with urban centres which offer food for subsidised prices, and supplementary nutrition schemes have helped reduce hunger.
States such as Bihar, Tamil Nadu, Andhra Pradesh and Rajasthan have changed grain entitlements, while others such as Himachal Pradesh have sought to achieve universalisation of the PDS scheme. Chhattisgarh, in particular, has focused on better service monitoring while better commissions for fair price shop owners and price reductions have also helped increase PDS offtake while lowering incentives to cheat. India continues to store more than three million tonnes of grain in the open, exposed to rain and pests, with plastic sheets offering minimal protection. This is enough to feed a mid-sized European country.
The challenge is one of getting more grains to the poor, while eliminating wastage and corruption along the way. Meanwhile, the leakages of the Food Corporation of India (FCI) can run up to 90% due to a range of factors, including poor quality wagons and inadequate security. Its stocking operations must be outsourced to the private sector, along with the adoption of a proactive liquidation policy. Breaking up FCI into its constituent parts should be evaluated, potentially decentralising procurement and encouraging local storage. With rising food inflation, its procurement policy should be increasingly skewed towards crops under the minimum support price policy, including pulses and oilseeds, even onions, and focused on food insecure states such as Assam, Bihar and Uttar Pradesh.
There is a need to pursue a "zero hunger" programme with no stunted children below the age of two. This should be a multipronged strategy that focuses on improving agricultural productivity, empowers women through support for maternal and child care practices, and offers nutritional education and social protection programmes. Even as we offer such programmes for Vitamin A and iron, there are still significant gaps in implementation. Maharashtra has adopted a multi-disciplinary initiative, reducing child stunting by 15% between 2009 and 2014. The state's nutrition mission has sought to develop better protocols for treating the acutely malnourished while ensuring better coordination between the nutrition and healthcare departments. India should adopt this mindset , battling against hunger over the next decade through long-term political commitment, along with policies encouraging food coupons, cash and in-kind transfers. Without such changes in execution, India will continue to remain hungry.
Varun Gandhi is BJP national general secretary and a Lok Sabha MP
The views expressed are personal