Internet shutdowns in India only fuel the fires of violence
Jan Rydzak and Rohini Lakshané
May 03, 2019 08:03 PM IST
Shutdowns have caused billions of dollars in economic damage and deeply impacted lives and livelihoods across India. However, rarely do we hear a more fundamental question: do shutdowns achieve their intended goals? Research suggests that it doesn't
The social media shutdown that followed the recent terror attacks in Sri Lanka was no isolated incident. On a global level, more than 40 countries have executed more than 400 blackouts of social media or Internet access since the Arab Spring. India accounts for an overwhelming majority of this tally. Nearly half of the estimated 306 shutdowns executed in India over the last seven years occurred in 2018, amid the surge of lynchings attributed to the circulation of violent content on WhatsApp.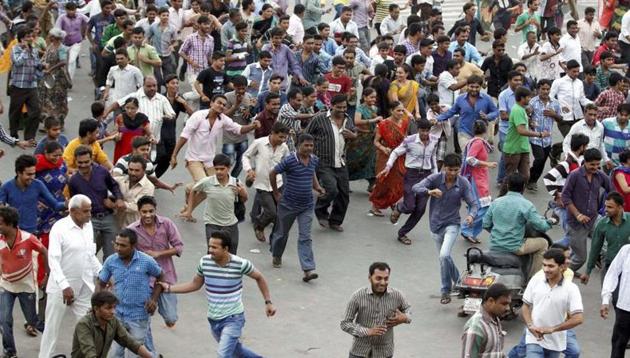 Shutdowns have caused billions of dollars in economic damage and deeply impacted lives and livelihoods across India. But rarely do we hear a fundamental question: do shutdowns achieve their intended goals? State governments in India routinely frame deliberate blackouts as either a public safety response to agitations or a preventive measure to restrain disinformation on social media and communication apps. Not a single time have they provided more than anecdotal evidence that a blackout successfully prevented the escalation of protest or curbed the spread of false information with the potential to stoke violence. The effectiveness of shutdowns in protecting public safety tends to be perceived as an indisputable truth, both in India and abroad.
Dissecting a blackout
Research suggests that this 'indisputable truth' is false. A recent study by one of the authors of this article examined thousands of peaceful demonstrations and violent riots that were reported across India in 2016, exploring how they evolved in the midst of a blackout. Violent protest generally increased on each consecutive day of disconnection relative to the typical dynamics of agitations that do not feature communication blackouts. This escalation only dissipated on the fifth consecutive day, eclipsing sheer numbers the riots that occur when communication remains available.
This finding alone brings into question the logic and ultimate purpose of shutdowns into question. But do blackouts disrupt the coordination of non-violent protests, leaving security forces to counter the chaos that unfolds? That does not seem to be the case either. Although peaceful demonstrations during blackouts do not seem to expand with every passing day as they usually would, they also do not show a steady decrease in numbers. The government's odds of extinguishing peaceful collective action in the streets during a blackout are no better than random chance.
The trajectory of the Burhan Wani protests in Kashmir is a case in point. Decades of armed separatist insurgency in Kashmir led to the granting of special powers to the army and disproportionately high rates of unrest. Since 2012, the state's executive powers have increasingly relied on Internet shutdowns to try to contain street protest. In the 'Burhan aftermath,' connectivity was disrupted for an unprecedented six months, turning the shutdown into what can be called a digital siege.
But both riots and peaceful demonstrations surged in the week that followed the onset of the shutdown, then continued to flare up periodically. These findings reveal that the shutdown, which drained Kashmir's digital economy, did nothing to stem the tide of unrest, instead rendering it more unpredictable and chaotic. Similar backfire effects were reported during the Patidar agitation in Gujarat and the Jat reservation protests in Haryana. Meticulous research on other countries has demonstrated similar effects.
What this means is that shutdowns spread even more havoc and uncertainty in an already volatile environment. Indiscriminate restrictions to access do not appear to be effective at thwarting any kind of protest. Instead, they escalate the varieties of protest that do not require extensive preparation, coordination on social media, or a connected leadership structure. And that spontaneous mobilisation can turn violent. In combination with the lack of a clear impact of shutdowns on non-violent protest, this implies that shutdowns simply do not appear to work.
The price of disconnection
The economic costs of these blackouts are enormous. A widely quoted study estimated the economic impact of shutdowns in India between 2012 and 2017 at $3.04 billion. It is virtually certain that their effects in 2018 were more severe than any previous year. The escalation of shutdowns that year coincided with the peak of connectivity boom, which has seen annual rural growth rates reach a staggering 30% and three Indian citizens connecting to the Web for the first time every second. Recent Telecom Regulatory Authority of India estimates show the country shattering short term Internet growth records, adding hundreds of millions of users in the space of less than a year.
The human impact of shutdowns in India has been documented just as extensively as the economic damage they cause. Report after report reveals an array of social and psychological harms, both in individual states and across the country. Threats to personal security for women with no access to communication channels, disruptions to emergency services and disaster relief, and inability to communicate with loved ones are all part of an array of harms that often go unreported and always go unaddressed.
This leads to the ultimate question: if shutdowns threaten people's lives and livelihoods, disconnect families, interrupt the flow of all information in times of crisis, and achieve the exact opposite of their officially stated goal – why implement them at all?
One doesn't simply black out a protest
Agitations, protests, and violent dissent occurred for thousands of years before the Internet was born. Yet governments continue to attribute complex social ills and their manifestation in the streets to communication technology. Shutdowns offer them a fast, easily conducted, and highly public way of showing that they are addressing the problem, with no duty to report on the results. An ineffective and opaque legal regime surrounding shutdowns only encourages this. Authorities only draw the line at India's largest urban centers, where a shutdown would cause catastrophic economic damage, paralyse the government machinery, and generate an immense public outcry.
Governments routinely overestimate the organising power of technology and underestimate that of human beings. Claiming that technology is responsible for violence ignores the undercurrents of social problems that manifest themselves through modern tools of communication. Asymmetries of social capital, the othering of minorities, legal and structural vacuums in remote areas, the coordination of mobs by political forces, and the absence of laws criminalising specific violent behaviour are all underlying phenomena that are not inherently linked to technology. India's move toward aggressive legislation on content moderation and data localisation round out the vision of an unusual technological regime that is at once dynamic and insular.
There is no doubt that WhatsApp and Facebook have been conduits for disinformation, both in India and the rest of the world. But proving their coexistence with bloodshed is not the same thing as demonstrating that one naturally leads to the other. Rumour-mongering and communal violence have been playing out in similar ways long before telephone lines and cell towers arrived in India, and cutting off communication will not snuff them out.
No single initiative will stop the rise of false news. But blunt-force tools are much less likely to work than constructive efforts that bring numerous voices to the table. Even in turbulent times, both diverse civil society coalitions and grassroots awareness campaigns by police forces in India have shown that the Internet can be harnessed proactively to resist and educate on disinformation rather than erase information channels completely.
Jan Rydzak is a research scholar and associate director for program, Global Digital Policy Incubator (GDPi), Stanford University. Rohini Lakshané is director (Emerging Research), The Bachchao Project
The views expressed are personal