Nitish's move will benefit both him and Modi but the mahagatbandhan is in tatters
Updated on Jul 27, 2017 01:28 PM IST
Leave the ethical imperatives aside, for all that matters is how did Nitish Kumar acquire, and now preserve power. Only three questions matter. Why did he and Modi break up at all? Why did they make up? What happens now?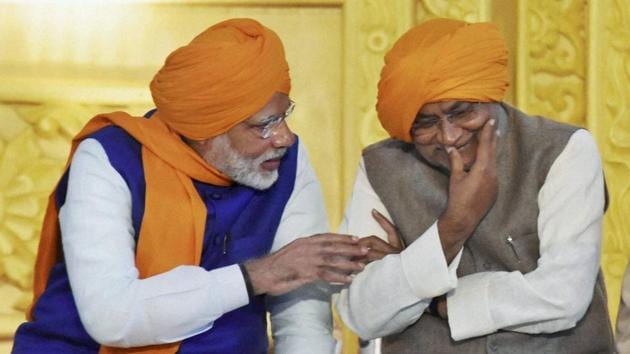 It is simple.
Two of India's sharpest politicians have come together. Narendra Modi and Nitish Kumar have embraced. And a partnership-turned-rivalry-turned friendship is renewed.
Leave the ethical imperatives aside, for all that matters is how did Nitish Kumar acquire, and now preserve power. Only three questions matter. Why did he and Modi break up at all? Why did they make up? What happens now?
The first two are easily answered.
They broke up because of personal and political rivalry. Nitish had national ambitions of his own - both a section of the BJP, and the liberal intelligentsia, encouraged him to think that these could be met if he broke ranks with BJP on the issue of Narendra Modi's prime ministerial elevation. He also prioritised the 'secularism' card in 2013. This meant protecting and expanding his 'Muslim vote'. But in 2014, he realised, that by itself, this was not sufficient and thus entered into an alliance with his old friend-turned-rival Lalu Prasad.
Together, they swept Bihar in 2015. But it is important to remember that they did so not just on the secular-communal binary – indeed, they underplayed secularism, and even Muslims told them not to overemphasise their minority backing because of the fear of majoritarian consolidation – but on the forward-backward binary — where the issue of caste was given prominence. In this, their ally was the RSS chief Mohan Bhagwat whose statement on the need to review reservations was interpreted as anti-reservations, and thus was used to consolidate backwards.
But if Nitish and Lalu had won comfortably, why did he and Modi begin making up?
Even before Nitish was sworn in, he realised that he had a problem on his hand at the state level. Lalu was the much bigger party. Because of his conviction, and because his children were young and raw, Lalu had reconciled to Nitish being the CM for this term. But Nitish knew it was a matter of time, at best till the next election in 2020, that Lalu would extract his pound of flesh - which meant the leadership position. Nitish also waited to see how national politics would turn out. If the Modi appeal began crumbling, and if a national opposition began shaping up, one way to save himself from the Lalu demands would be to seek a larger national role - and ideally become the 2019 face of the opposition as PM.
But Nitish could see that in Bihar, Lalu was beginning to become a liability - and at the national level, the opposition alliance showed no signs of taking off. He had always been clear that Congress would have to play a key role in this grand alliance. But its leadership was disappointing; its ability to challenge Modi was weak. And the UP election was a pointer that 'secularism' by itself would not be enough to win elections. Indeed, in a crisp statement issued after the UP election, Nitish pointed out that it was the opposition's inability to reach out to backward castes that was a big factor in the defeat. Remember Nitish's strength was always backward castes. Indeed, BJP had tapped his formula on consolidating the non politically privileged backward castes (ati pichdha in his grammar) and non- privileged Dalits (Mahadalits in the Bihar context) in UP.
Nitish, seeing this political climate, had begun, slowly, opening the doors for the BJP. His support for demonetisation, silence on Yogi Adityanath's appointment or breaking ranks with the rest to support Ram Nath Kovind constituted a pattern.
So what does this mean?
In Bihar, it marks the return of the pre-2013 arrangement and the BJP to power – ensuring that along with UP, it is in power in two of India's biggest states. It once again leads to an upper-caste/non Yadav backward/Dalit alliance. And it positions the NDA on way for a win in 2019.
Nationally, it demoralises the opposition. The breaking away of one of their most credible faces shows yet again the Congress' inability to act as the mediator, and leaves them on the side of 'corruption' as the NDA steals the moral high ground. And it marks the embrace of two men, who, till four years ago, could not stand each other. Narendra Modi and Nitish Kumar are the new best friends of Indian politics.
prashant.jha1@hindustantimes.com
Personalise your news feed. Follow trending topics