The real Bhagat Singh: Secular, socialist and tolerant
Sep 28, 2015 12:28 PM IST
He was a firebrand Leftist and an atheist who criticised communal politics and capitalist economy. Not the kind of icon the Hindu right wing imagines him to be.
On August 15 this year, the Rashtriya Swayamsevak Sangh (RSS) shared a 'Happy Independence Day' poster on its Facebook profile, in which a portrait of revolutionary Bhagat Singh was sandwiched between those of freedom fighters Vinayak Damodar Savarkar and Netaji Subhas Chandra Bose.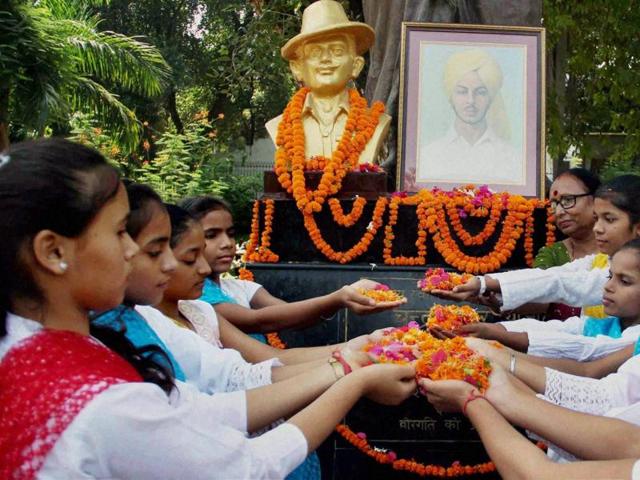 Mahatma Gandhi and Jawaharlal Nehru were conspicuous by their absence from the collage which featured, among others, Rani Lakshmi Bai of Jhansi, Sri Aurobindo and Bal Gangadhar Tilak.
The person who conceptualised the poster, however, got it all wrong.
Savarkar, Bose and Singh were galaxies apart ideologically and their ideas of 'independent India' strikingly different. Savarkar was the brain behind Hindutva, while Bose didn't mind joining hands with fascist forces to get rid of British rulers. Singh, on the other hand, dreamt of a secular and socialist Indian future.
By clubbing everyone together, the Hindu right-wing aims to homogenise all their ideological differences under the banner of "freedom fighters". The truth is far from that.
The poster was, in plain speak, an instance of how India's Hindu right-wing political parties have attempted to appropriate the legacy of Singh, who, based on all his writings and speeches available, came across as a firebrand Leftist and an atheist who vociferously criticised the agendas of communal politics and capitalist economy.
Such onslaughts to cash in on the popularity and cult status of Singh are not new. You must have seen a portrait of Singh--with a hat and twirled moustache--on many saffron posters, advertisements and placards. And such appropriation has little regard for who the man actually was, what he wrote and whom he criticised.
On the Sangh Parivar appropriating historical figures like Singh, CPI-M general secretary Sitaram Yechury wrote: "It is, indeed, ironic that Modi and, hence, the RSS should be observing the martyrdom day of Bhagat Singh who unequivocally and openly declared that he was an atheist and propagated the harmonious co-existence of people belonging to all religious faiths and atheists in India."
Not only the political, but cultural motives too have guided the appropriation of Singh's legacy. For instance in 2011, Singh's Wikipedia page was repeatedly edited on February 13 and 14 and there were attempts to change the date of his execution from March 23, 1931, to February 14, 1931 (coinciding with Valentine's Day). Along with that, media reports say, text messages were shared across the country asking couples to not celebrate Valentine's Day since Singh and his associates, Sukhdev and Rajguru, were hanged on that day.
There is no secret as to supporters of which political hue oppose Valentine's Day celebrations. Observers say this incident was an example of how Singh's life is used to whip up emotions.
The appropriation of Singh's legacy is sometimes quite absurd. For example, a New Delhi-based right-wing nationalist organisation--headed by a former BJP youth wing activist--calls itself the Bhagat Singh Kranti Sena. The Sena organised rock music shows in support of Modi before the Lok Sabha elections in 2014 and its members attacked former Aam Aadmi Party leader and senior advocate Prashant Bhushan for his comments on Kashmir in 2011.
In the narrative that right-wing organisations want us to believe, Singh's political acumen and his Left-wing idealism are simply obliterated. He is portrayed as a gun-toting extremist who "loved his motherland" and killed a British officer and threw bombs to fight the colonial rulers.
Though Singh killed British police officer John Saunders in 1928, and hurled bombs in the Central Assembly in New Delhi in 1929, he did denounce the mere use of violence in the freedom struggle without an ideology backing it.
"Let me announce with all the strength at my command, that I am not a terrorist and I never was, except perhaps in the beginning of my revolutionary career. And I am convinced that we cannot gain anything through those methods," Singh wrote in a note to young people joining the movement.
During his trial, Singh wrote, "Revolution did not necessarily involve sanguinary strife. It was not a cult of bomb and pistol. They may sometimes be mere means for its achievement. No doubt they play a prominent part in some movements, but they do not -for that very reason -become one and the same thing. A rebellion is not a revolution. It may ultimately lead to that end."
Going by his own views, portraying Singh as a freedom fighter who loved the gun and believed in killing the British is outrageously wrong.
Singh was one of the pre-eminent socialist thinkers of his times - someone who fought the colonial rulers while devising strategies to fight inequality, and communalism. He actually changed the definition of 'revolution' in India, as renowned historian Bipan Chandra noted.
"Bhagat Singh and his comrades also made a major advance in broadening the scope and definition of revolution. Revolution was no longer associated with mere militancy or violence…it must go beyond and work for a new socialist order, it must 'end exploitation of man by man'."
Singh himself wrote a few days before his execution: "…the struggle in India would continue so long as a handful of exploiters go on exploiting the labour of the common people for their own ends."
Earlier this month, I met a young trade union leader, Rajesh Kumar, who leads the struggle for rights of industrial workers, in west Delhi's Mayapuri area on the day of all India workers' strike. The small office from which he operates is in a dilapidated state, but it's furnished with a photograph of Singh, alongside those of Lenin and Marx.
Kumar wrote to me on Sunday informing that the workers in his area celebrated Singh's birth anniversary.
His mail read, "The legacy of Bhagat Singh teaches us to aspire for a self-reliant India in which the interests of her people are the goal of policies and actually, this alone is the true meaning of freedom."