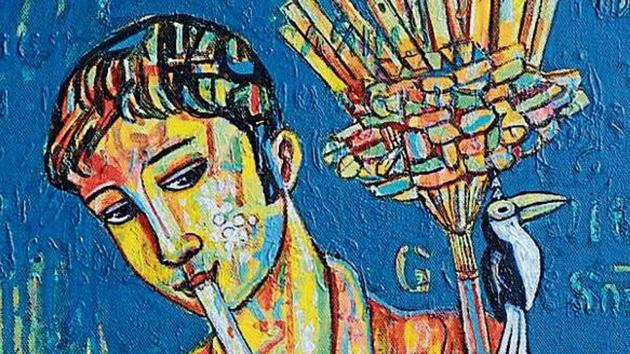 Healing and compassion take centrestage at this Delhi exhibition
Delhi-based artist Mohan Singh takes inspiration from love and its healing powers for his latest exhibition.
UPDATED ON NOV 15, 2018 10:32 AM IST
Love has many forms, and for the Delhi-based artist Mohan Singh it takes the form of healing and compassion in his paintings. His artworks are on display at an exhibition titled Metanoia that is ongoing till November 26.
Singh seeks to create paintings which are a communication of his inner most self and believes that art is not just meant to look nice, but also to invoke feelings.
"I took an interest in art because art is a global form of communication. It educates visually by either moving you, pleasing you, or even inspiring you. And in the current scenario, love is an emotion that is needed the most by everyone," he shares.
A post graduate from Delhi's College of Art, he says that painting faces and figures have always interested him.
"I'm intrigued by the characteristics of human expressions. I believe that faces carry a strong source of emotion and that is exactly what I want for my artworks as well. I want viewers to look at these and feel good. The happiest moment for me is when I catch someone smiling while viewing my paintings," he says.
His subjects mostly against an intensely coloured and decorated surface, give a psychedelic impression.
Expanding on his artworks, he says: "These works express the process of fundamental change in a person's personality, influenced by ultimate compassion. This change is the prerequisite for healing and requires awakening of spiritual love, which inspires us to dive into an ocean of new wonders and experiences."
"The figures in the paintings reflect a complete state of metanoia and the dash and dabs of paint are the symbol of change leading to a new feeling, a new relation and a new bonding freed from the materials and practicalities of the complex world," adds the 46-year-old artist.
Catch it live
What: Metanoia
Where: Gallerie Ganesha, E-557, Block E, Greater Kailash II
On Till: November 26
Timing: 11am to 7pm
Nearest Metro Station: Lajpat Nagar on Violet Line
Close