Rahul Gandhi hits out at PM Modi for 'kabristan-shamshan' comment
Updated on Feb 26, 2017 08:41 PM IST
"Whenever Modi feels jittery, he starts spreading hatred. You can vote for anyone of your choice. But they are trying to put one against the other," Rahul Gandhi said.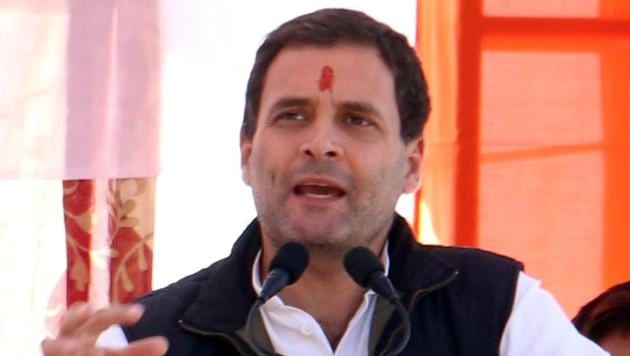 Congress vice president Rahul Gandhi hit out at Prime Minister Narendra Modi on Monday for the latter's 'kabristan-shamshan' comment, saying the divisive remarks betrayed the BJP leader's sense of "apprehension and jittery."
"In an election people are free to vote to anyone of their choice. But they must remain guarded against any attempt to spread hatred and create division in the society," the Congress leader said while addressing a rally at an assembly segment in his Amethi Lok Sabha constituency on Monday.
A day earlier Modi in Fatehpur said: "If you create kabristaan (graveyard) in a village, then a shamshaan (cremation ground) should also be created. If electricity is given uninterrupted in Ramzan, then it should be given in Diwali without a break. Bhedbhaav nahin hona chahiye (there should be no discrimination."
Read| If a kabristan can be constructed, a shamshaan too should be built: PM Modi
Reacting to the comment, the Congress vice president said: "You must have heard his speech, he (Modi) has started this (spreading hatred) yesterday. The elections come and go. But you must understand all this. If UP is set on fire or a house starts burning, everybody's house will get burnt. Whenever Modi feels jittery, he starts spreading hatred. You can vote for anyone of your choice. But they are trying to put one against the other."
Rahul was addressing the rally in Chhatoh area of Salon assembly constituency.
The Congress leader said Modi-led NDA government's two-and-a-half year tenure was a retrograde film journey. Modi assured 'achhe din' as was promised in 'Dilwale Dulhaniya Le Jayenge' but ended up being Gabbar Singh of 'Sholay,' he said.
Rahul went on to claim that the Congress-Samajwadi Party alliance wiped the smile off the Prime Minister's face and his mood changed as he realised the BJP is going to get a drubbing in the elections.
Once the alliance comes to the power in the state, it will lead to installation of a Congress government at the Centre after 2019 parliamentary elections, he claimed.
Stating that Shaktiman Food Park, Hindustan Paper Mills and some railway projects were announced for Rae Bareli and Amethi by the erstwhile UPA government, the Congress leader claimed Modi government scrapped them by resorting to politics of vendetta.
"This is hurting the people and I feel bad about it," he said, promising to set up a new and a bigger food park in his constituency once a Congress government was installed at the Centre.
He said if voted to power the alliance's government in the state would provide farmers remunerative price for their produce and local brands would be promoted at the international market.
"I told chief minister Akhilesh Yadav he would get a made-in Kanpur leather jacket when he next visits the USA," Rahul said, adding products from Rae Bareli and Amethi too would find a place in the global market.
Senior Congress Captain Satish Sharma, who also addressed the rally, hinted the alliance would even contest the 2019 Lok Sabha elections together.
"We have joined hands to make Akhilesh Yadav chief minister again and Rahul Gandhi next prime minister," he said.
Read| Narendra Modi, Amit Shah are terrorists spreading fear: Uttar Pradesh minister