If a kabristan can be constructed, a shamshaan too should be built: PM Modi
Hindustan Times, Kanpur |
Haider Naqvi
Feb 20, 2017 09:13 AM IST
The Prime Minister said the 'exile of development' must end in Uttar Pradesh.
Prime Minister Narendra Modi lambasted the Akhilesh Yadav-led Uttar Pradesh government on Sunday by drawing a parallel between Hindu and Muslim festivals and accusing the administration of practising discrimination on the basis of religion.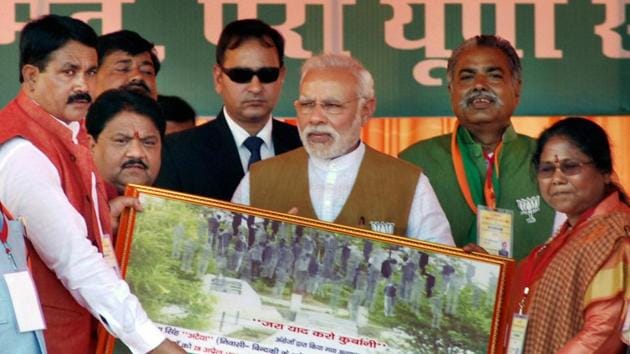 "If you create kabristaan (graveyard) in a village, then a shamshaan (cremation ground) should be created. If electricity is given uninterrupted in Ramzan, then it should be given in Diwali without a break. Bhedbhaav nahin hona chahiye (there should be no discrimination," Modi told a rally in Fatehpur, apparently playing the Hindutva card in the postically crucial state where seven-phase elections are underway.
Stay tuned with breaking news on HT Channel on Facebook.
Join Now
Fatehpur will go to polls on February 23 in the fourth phase of voting in India's most populous state.
The Prime Minister also said the 'exile of development' must end in Uttar Pradesh, appealing the people to cast their vote for a government which ensures safety in the state.
"Vikas ka vanvaas (exile of development) in Uttar Pradesh must end now. The country is moving ahead at fast pace and so must Uttar Pradesh," he said.
"The Samajwadi Party is least concerned about improving law and order situation in the state. I urge people to elect a government that would ensure safety of people," he added.
He took on the Congress, which is fighting the elections in alliance with the state's ruling Samajwadi Party.
"Two leaders thought we both are drowning why we shouldn't go down together," he said in a veiled reference to Akhilesh and Congress vice-president Rahul Gandhi, who have been campaigning together.
Modi also said CM Akhilesh's body language showed he had lost the plot. "I saw him on TV today, strength in his voice was missing, shoulders drooped, he was scared and looking for word."
(With ANI inputs)