Narendra Modi, Amit Shah are terrorists spreading fear: Uttar Pradesh minister
A senior Samajwadi Party minister has compared Prime Minister Narendra Modi and BJP chief Amit Shah to terrorists for allegedly scaring voters in Uttar Pradesh.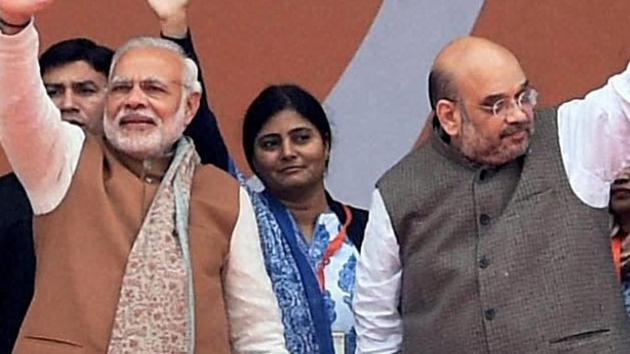 Updated on Feb 20, 2017 12:02 PM IST
Prime Minister Narendra Modi and BJP chief Amit Shah are terrorists who are trying to terrorise people in Uttar Pradesh, a Samajwadi Party minister has said, as campaigning in the state turned ugly halfway through the seven-phase assembly elections.
The comment by Rajendra Chowdhary came shortly after Modi accused the SP government of discrimination on the basis of religion.
"They want to create an environment of fear. They are both terrorists -- Narendra Modi and Amit Shah. They are creating terror in our democracy," Chowdhary said.
"They have nothing to say and hence are making wild allegations. The BJP knows it is losing the plot in UP and it will fare worse than in Bihar," the senior minister, who is also the party's spokesperson, said after voting in the third round ended on Sunday.
The BJP was quick to respond.
"It is their (SP's) frustration and people of UP will punish them for such intemperate language against the PM," said BJP vice president and party's UP in-charge Om Mathur.
BJP media in-charge Harish Srivastava also attacked the SP leaders for using "wild language".
"It's clear that the SP is losing even in its bastion. It isn't just their tongue that is slipping. By the time seven round UP polls end UP would have slipped out of their control too," Srivastava said.
On Sunday, Modi drew a parallel between Hindu and Muslim festivals to accuse the Akhilesh Yadav administration of practising discrimination on the basis of religion.
"If you create kabristaan (graveyard) in a village, then a shamshaan (cremation ground) should be created. If electricity is given uninterrupted in Ramzan, then it should be given in Diwali without a break. Bhedbhaav nahin hona chahiye (there should be no discrimination," Modi told a rally in Fatehpur, apparently playing the Hindutva card in the politically crucial state.
Close Story