Kangana Ranaut celebrates her nephew's first Diwali with her family in Manali. See pics
Kangana Ranaut is celebrating Diwali with a lot of snow this year. She is back in her hometown, Manali with her siblings and parents.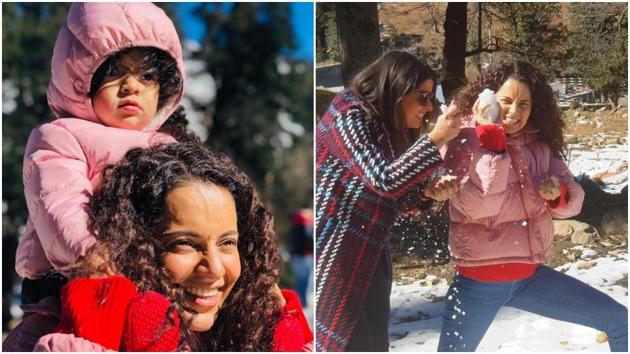 Updated on Nov 06, 2018 08:09 PM IST
Actor Kangana Ranaut is back at her home in Manali to celebrate Diwali with her family. She is enjoying a great time in the hills and the pictures speak to that effect.
Kangana's official Instagram handle shared pictures of her and her family on Tuesday. She is seen rolling up snowballs with her sister Rangoli Chandel and brother Akshit Ranaut and carrying her little nephew Prithvi on her shoulders in the pics. She is wearing a thick pink jacket and flashing a big smile as she enjoys playing in the snow. Check out her pics:
+ +
+ +
+ +
More videos posted on the page's stories show Kangana and her brother in a snowball fight as they chase each other on the snowy hills. Watch videos here:
+ +
Kangana decided to spend Diwali in Manali this year specially for her little nephew and for her brother who is introducing the family to his girlfriend. "My entire family will come together this Diwali. My brother is introducing us to his girlfriend and making the relationship official, so we wanted to be together on this special day. It's also my nephew Prithvi Raj's first Diwali. Since he's just a baby we will avoid noisy crackers," she told Mumbai Mirror.
Since it is snowing in Manali, Kangana is carrying her favourite vintage wine. "My grand piano, a song and wine is my idea of a party so in a sense I will be partying this Diwali," she added.
Once she returns from the three-day trip, she will resume the post production work for Manikarnika: The Queen of Jhansi. Following this, Kangana will start working on the movie Panga from November 9 in Bhopal. It's a 25- day schedule and she will be seen as a Kabaddi player in the movie.
Kangana said Manikarnika has been a tough journey for her. "Rani Laxmibai had to fight so much. I would not wish that life for anyone I love. Also, I won't want my children to have the kind of life I have had. I don't know why but I have to fight for everything in my life," she had said. "I don't get anything without fighting for it. I am neither proud, nor ashamed, I'm pretty fine with how my life is. But if you ask me if I want this for my children or my loved ones, then no," she added. The actor was speaking at the wrap party of the biopic, directed by Krish.
Follow @htshowbiz for more
Close Story