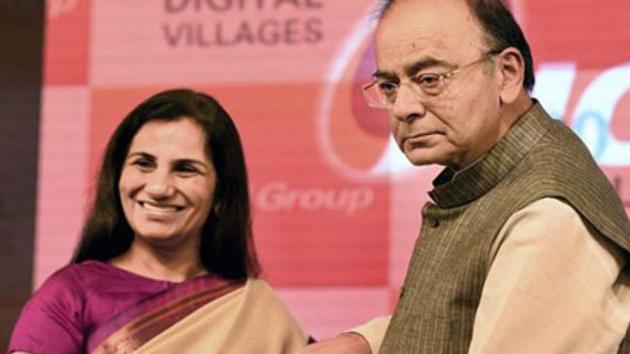 ICICI Bank aims 600 'digital villages' by 2017 to push Modi's less-cash mantra
ICICI Bank has already helped 100 villages to adopt digital transaction in the last 100 days and now plans to add 500 more to the list.
Hindustan Times, New Delhi | By HT Correspondent
UPDATED ON MAY 02, 2017 07:25 PM IST
India's leading private lender ICICI Bank aims to create 600 "digital villages" across the country by year-end to help Indians at the hinterland adopt to electronic transactions, its CEO Chanda Kochhar said on Tuesday, .
After the demonetisation drive started in November 2016, Prime Minister Narendra Modi has been pushing Indians to opt for digital transactions and move towards a "less cash" economy. The government has launched a BHIM app that helps consumers to transact through their mobile phones.
Accordingly, banks and other intermediaries are trying to scale up digital transactions.
ICICI Bank has already helped 100 villages to adopt digital transaction in the last 100 days and now plans to add 500 more to the list, Kochhar said at a function inaugurated by finance minister Arun Jaitley in New Delhi.
The 100-village project, which also included imparting skill training and providing credit linkages to people living there, was taken up by the bank after noticing that minimum inconvenience was caused to people living in a model "digital village" in Gujarat during the demonetisation period.
Under the scheme, ICICI Bank imparted vocational training to 11,300 villagers, including 70% women, and opened more than 2 lakh bank accounts, Kochhar said, adding that a credit linkage facility was also given to many in these 100 villages to help them earn their livelihood.
The bank has also provided loans to the tune of Rs 14 crore to customers of these 100 digital villages and with more addition, the credit flow is going up, she said.
On the programme, Kochhar said it encompassed digitisation of transactions and other commercial activities besides providing vocational training, credit facility and market linkage to help villagers earn a sustainable livelihood.
"We will transform another 500 villages into 'ICICI Digital Villages' by December 2017 and train another 50,000 individuals," she said.
The ambitious project, which began in November 2016, was inspired by the success of India's first digital village created by ICICI Bank at Akodara in Gujarat in 2015.
"We were very happy with the work we did in Akodara 2 years ago. We noticed that during the demonetisation period, this village saw very less inconvenience compared to others, because of the digital banking and other infrastructure we had created there.
"This made us think that we can do more on this front and we decided to convert 100 villages into digital villages," she said, adding these efforts were also in line with the government's 'Digital India' programme and the initiatives aimed at promoting 'less cash' economy in the country.
"What we also thought that we will add skill training and credit linkages to our work in those villages. This way we have been able to promote a 'less cash' ecosystem and also promote locally required skill sets on those areas," she said.
Kochhar said the initiative has already covered 17 states, including Maharashtra, Andhra Pradesh, Telangana and Gujarat.
"Also, we have opened more than 2 lakh accounts so far, which covers most of the adult population in these villages. We have installed POS machines, micro ATMs and also opened accounts for Village Level Centres or VLCs.
"We have also introduced very simple features for mobile banking so that people in those villages can do banking just on the basis of SMS and without requiring smartphones," she said.
Kochhar said ICICI Bank is now picking more and more states and villages for the next phase in which it would create 500 digital villages by December 2017.
Asked whether the next 500 villages would lead to over 10 lakh accounts, she said, "It should be so. Basically, it would depend on the population of the villages, but broadly that kind of numbers should be achieved."
About skill training, she said the focus was on skills that are very local in nature and are relevant to the local needs and the area.
"We had a special focus on women, who have been trained in tailoring, dress designing and many other skills. As a result, people in those villages have begun to earn Rs 20,000 -30,000 a month and many have become entrepreneurs," she added.
On credit linkages, Kochhar said credit facilities have been extended to those wanting to start their own small business and also for the self-help groups (SHGs).
"Credit linkage has been provided to about 1,000 people directly and for over 2,000 through SHGs.
"In terms of training, 70% were women. Besides, 84% of those having been given training are now earning their livelihood on their own," she said.
Free vocational training was provided in association with ICICI Foundation for Inclusive Growth, the CSR arm of the group.
The 100 villages covered so far include 16 in Gujarat, 14 each in Maharashtra and Madhya Pradesh, 12 in Tamil Nadu and Karnataka and 11 in Rajasthan, among others.
ICICI Bank said it is using Aadhar-based e-KYC to help villagers open accounts in a paperless manner, without submitting physical documents. There is a dedicated ICICI Bank branch in each village to service these accounts.
The bank has provided an SMS-based mobile service which facilitates the villagers to transfer funds, receive SMS alerts and mini-statements and know their account balance.
It is available in 10 regional languages and functions on basic feature phones as well, without the requirement of smartphones.
The training programmes included agriculture, dairy and vermicomposting, agriculture equipment service and repair, dress designing and sandstone cutting, mobile phone servicing and electrical home appliances. (With inputs from PTI)
Close