IT job prospects 'encouraging' with Digital India, Prasad says
India IT companies currently serve two thirds of the fortune 500 companies and have created 40-lakh direct jobs in India, says Prasad.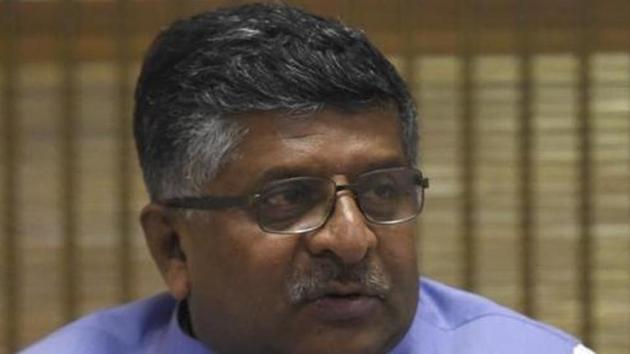 Updated on May 23, 2017 07:20 PM IST
Terming media reports of large scale job losses in the information technology industry as "highly exaggerated and unfounded", Union IT minister Ravi Shankar Prasad said on Tuesday employment prospects for the sector was encouraging as flagship schemes such as Digital India gain momentum.
A rise in protectionism and visa restrictions in countries such as United States and Australia have dimmed job prospects for Indian software professionals. But foreign companies are still banking on the competitive edge of the country's computer programmers.
"India's domestic IT market offers strong prospects for industry growth even if global markets were to face challenges," Prasad said in a statement.
"Indian IT sector employment prospects, both in the near and long-term are expected to be broadly positive and encouraging for the future. India IT companies currently serve two thirds of the fortune 500 companies and have created 40-lakh direct jobs in India."
While reports peg the job losses in big IT companies at about 60,000, Prasad said it was highly exaggerated.
Nasscom recently said most layoffs were linked to performance, impacting only 0.5 - 3% of the total IT workforce.
Citing Nasscom projections, the minister said the industry continues to be a net hirer.
Nasscom has forecast 2.5 - 3 million new jobs will be created by 2025. It added 1,70,000 new jobs in 2016-17.
The IT industry added 600,000 in last three years and today, boasts of a total employee base of 3.9 million, Prasad said.
Highlighting the survey of staffing firm TeamLease, Prasad said IT sector hiring sentiment is positive and is up by 4% in October 2016 to March 2017.
E-commerce and technology startup sector hiring sentiments has increased by 2%, with projected 14.94% job growth, TeamLease said.
Another recruitment firm Randstad projected a cumulative growth rate of 9% job growth in the IT and IT-enabled services market.
Prasad hopes the Indian technology startup sector would offer strong and growing employment prospects to Indian IT professionals.
According to NASSCOM, in 2016, Indian technology startups employed 95,000-100,000 IT professionals across more than 4,750 startups.
India's total software product market grew by 9.5% to $7 billion in 2016-17, with exports growing 7.8% to $2.3 billion.
India's overall domestic IT and business process management (BPM) sector is estimated to grow 8.5% to $37 billion in 2017.
In villages, community service centres (CSCs) generated 10 lakh local level employment by way of village level entrepreneurs, Prasad said.
The IT ministry has come up with India BPO promotion scheme with an aim to provide employment to 1.45 lakh persons, mostly in the small towns.
In telecom sector, Prasad said 72 new mobile manufacturing units started in the last 30 months and created 1 lakh direct and 3 lakh indirect jobs in India.
"All major brands like Apple and Samsung in the ICT sector are manufacturing or ready to manufacture in India."
Close Story
Personalise your news feed. Follow trending topics