Kudankulam nuclear plant caused Rs 10,000-crore loss to NPCIL, finds CAG
Dec 28, 2017 01:31 PM IST
A CAG audit found that NPCIL incurred expenditure of Rs 1,012.37 crore towards erection and commissioning of Nuclear Steam Supply System and Turbo Generator, as against the Rs 305.50 crore previously estimated.
More than eight years of delay in starting the commercial operation of Kudankulam Nuclear Power Project (KKNPP) has caused a loss of over Rs 10,000 crore to the Nuclear Power Corporation of India Limited (NPCIL), a body responsible for operating nuclear reactors.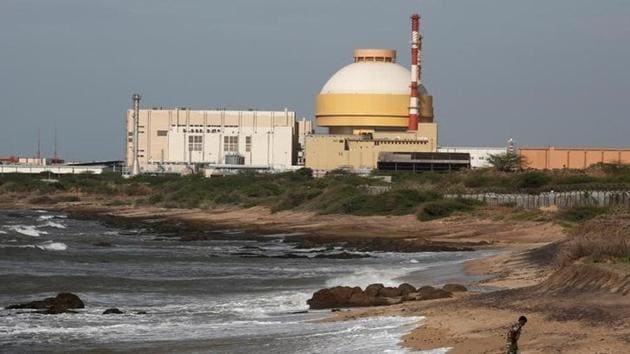 The Comptroller and Auditor General of India (CAG), in its audit report tabled in Parliament, cited a number of deficiencies in the construction and execution of two initial phases of KKNPP situated at Kudankulam in Thirunelveli district of Tamil Nadu.
It said the cost of the project comprising Units I and II was initially approved for Rs 13,171 crore in 2001, which was revised to Rs 17,270 crore in 2013 and later to Rs 22,462 crore in 2014. "The capitalised project cost incurred till 31 March 2017 was Rs 1,523 crore and Rs 10,212 crore for Unit I and Unit II respectively," said the report.
The report has also alleged that NPCIL's careless financial spending provided undue financial advantage to Russian company M/s Atomstroyexport (ASE), which was contracted for setting up the power station.
The audit found that due to delayed completion of different activities, of which many were attributable to ASE, the schedule date of completion was postponed from October 30, 2007, to December 31, 2011, for Unit I and from October 30, 2008, to December 31, 2012, for Unit II.
"However, due to non revision of schedule of repayment of the Russian credit, the repayment started before revenue generation, causing an additional interest burden on Nuclear Power Corporation of India Limited (NPCIL) to the tune of Rs 449.42 crore," it said. It also found that NPCIL failed to raise claims for liquidated damages worth Rs 463.08 crore from ASE.
To overcome its financial constraints, NPCIL had to avail term loan of Rs 1,000 crore from HDFC Bank Limited in violation of CVC's guidelines on tendering.
The 70-page report narrated multiple instances of avoidable payment of interest on borrowings, non-transparency in availing loans, lapses in tariff fixation process, extending undue benefits to overseas collaborating partner among other things.
It also alleged non-cooperation from NPCIL in providing records "pertaining to dates of completion of final safety review and submission date to Atomic Energy Regulatory Board (AERB) and details of items damaged during commissioning of Unit I".