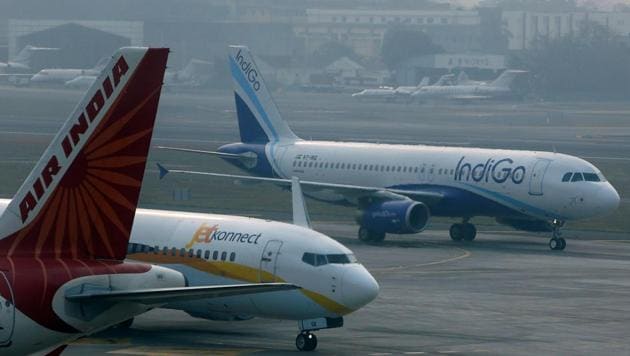 Won't bid for Air India, don't have capability to turn around ops: IndiGo
IndiGo airlines was one of the first players to show interest in Air India after the government gave its in-principal approval last June for the disinvestment of the national carrier.
UPDATED ON APR 05, 2018 09:44 PM IST
India's largest domestic carrier IndiGo, first off the blocks in announcing its interest in acquiring Air India soon after the government said the airline could be sold, has all but withdrawn from the race after the government put out details of the proposed sale.
"From day one, IndiGo has expressed its interest primarily in the acquisition of Air India's international operations and Air India Express. However, that option is not available under the government's current divestiture plans for Air India. Also, as we have communicated before, we do not believe that we have the capability to take on the task of acquiring and successfully turning around all of Air India's airline operations," Aditya Ghosh, president and whole-time director at InterGlobe Aviation Ltd, the company behind IndiGo, said in a statement.
The government's plan is to sell 76% stake ofn the airline, and 100% of its low-cost international carrier Air India Express Ltd and a 50% stake in Air India SATS Airport Services Pvt. Ltd, an airport ground-handling joint venture.
It also wants control to remain with Indian entities and the buyer to retain the brand name Air India. The government will retain a 24% stake in the airline, part of which will be transferred to employees under a stock option scheme.
A civil aviation ministry official who spoke on condition of anonymity said the department wouldn't comment on individual responses to its statement inviting so-called expressions of interest but added that the terms mentioned would be the same for everyone.
An expert termed IndiGo's decision "wise" and said it is in the "interest of its shareholders". "IndiGo needs to remain focused on executing its business plan which will see very aggressive expansion in domestic and international markets. Air India, though a very good opportunity, would have been too complex and very risky for IndiGo (to acquire)," said Kapil Kaul, CEO and director, Centre for Asia Pacific Aviation (CAPA).
The civil aviation ministry has invited expressions of interest from interested parties by 5 pm on May 14.
The sale will help the government achieve its ambitious Rs.80,000 crore disinvestment target for 2018-19.
According to the Expressions of Interest document released by the ministry of civil aviation, potential buyers need to have a minimum net worth of Rs5,000 crore and should have reported a profit after tax in three of the five previous years. The net worth criteria doesn't apply to Indian airlines, as long as they satisfy other requirements.
Close