Give 1,300 mgd water to Delhi, CM urges Centre
Jan 30, 2023 06:12 AM IST
Since it is located in a semi-arid zone, Delhi depends on raw water from the Ganga basin, the Yamuna sub-basin, and the Indus basin, in addition to its own internal aquifers and groundwater resources
Chief minister Arvind Kejriwal on Sunday appealed to the central government to increase the share of the Capital's water supply to 1,300mgd (million gallons per day) for residents to be able to receive water 24x7. He also remarked that consumers should wait before making their water bill payments if they feel their bills have been inaccurately generated as the government was working to bring out a new scheme in this regard.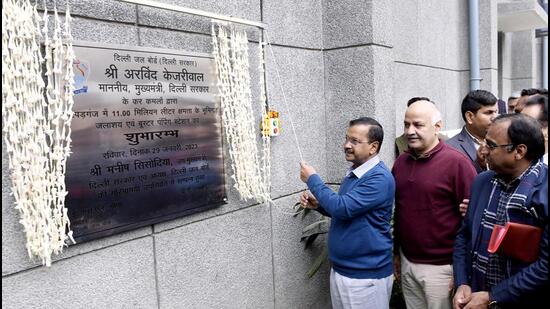 Kejriwal, who was speaking at the inauguration of an underground reservoir in East Delhi's Patparganj, said that Delhi's water share was fixed at around 800-850mgd in 1998 when the city's population was just 8 million. "Delhi's water share from outside sources such as rivers Yamuna and Ganga was fixed at 800-850mgd in 1998 by the central government and other agencies. The population of Delhi has grown three times to around 25 million now. People need water for their daily needs. We appeal to the central government that Delhi should get more water share," he added.
ALSO READ: 'Have been CM for 8 years, went abroad just twice': Kejriwal amid tussle with LG
Kejriwal said that it was getting difficult for the city to meet its water demands despite ongoing efforts to save water. "We are not asking for 2,000- 2500mgd; but if we can just get 1300mgd raw water, I will be able to provide 24x7 water supply to the people. If the central government can send the right signals to the neighbouring states, we can get more water from them," the chief minister said.
Delhi depends on neighbouring states to meet around 90% of its drinking water demand. Since it is located in a semi-arid zone, it depends on raw water from the Ganga basin, the Yamuna sub-basin, and the Indus basin, in addition to its own internal aquifers and groundwater resources. According to Delhi's Economic Survey 2021-22, based on the norm of 60 gallons per capita per day (GPCD), Delhi requires 1,380mgd for its projected population of 23 million.
According to Kejriwal, the Aam Aadmi Party (AAP) government has increased Delhi's water supply from 861mgd in 2015 to 990mgd now. "We have increased the water supply by 129mgd. This additional water was not provided by Uttar Pradesh or Haryana. We increased the number of tubewells, ranney wells and groundwater sources. Over the last seven years, we have developed three new water treatment plants and one water recycling plant. We have installed 500 new tubewells, and laid 2,250km new water pipelines, which are now benefitting three million people," Kejriwal claimed.
The chief minister said the AAP government was also working on a series of projects and experiments to increase the number of internal water sources through groundwater recharge, harvesting of rainwater and other measures. According to Delhi's Economic Survey 2021-22, the Capital received 40.8% of its raw water supply from the Yamuna, 26.5% from the Ganga, 23.1% from the Bhakhra storage, and extracted the rest from groundwater aquifers.
The chief minister also said that inflated water bills were a key issue due to metre reading-related problems and the Delhi government was soon going to release a scheme to rectify this problem. "Do not worry. If you think your water bill is accurate, you can pay it. But if you feel the water bill has been wrongly generated, you should wait for some time. We are working on a scheme to rectify the bills. If you think your water bills are inaccurate, don't pay them," he said.
ALSO READ: DDA looks to rework its slum rehabilitation plan
Meanwhile, deputy chief minister Manish Sisodia, who is also chairman of Delhi Jal Board (DJB) and was at the inauguration of the underground reservoir (UGR) and booster pumping station in Patparganj (his constituency) said that the area was located at the tail-end of Delhi's water supply system, which led to low supply pressure but the problem will now be rectified. "In the last seven years, we developed seven UGRs, while under previous regimes it used to take over 15 years to build one UGR. This work is being carried out despite works being stalled and files not being cleared timely," he said.
SL Meena, DJB member, said they constructed 17km of water pipelines under the Patparganj project. "Six pumps have been installed with two units on standby. The cost of the project is ₹32 crore and the areas that will benefit include parts of Pandav Nagar, Patparganj village, Jawahar mohalla, Mayur Vihar phase-1," he said.