'Have been CM for 8 years, went abroad just twice': Kejriwal amid tussle with LG
Jan 22, 2023 03:13 PM IST
The AAP government and the Delhi LG have been locked in an intense standoff and teachers' training has been one of the many issues.
Delhi Chief Minister Arvind Kejriwal on Sunday held an interaction with government school teachers who participated in the training in Finland, Cambridge and Singapore as the Aam Aadmi Party (AAP) government's tussle continues with Lieutenant Governor Vinai Kumar Saxena. Speaking at the event, the Chief Minister said: "There has been a perception from a long time there there is no need to hold trainings for government schools' teachers. Earlier, as (Deputy Chief Minister) Manish Sisodia said there used to be seminars where information was disseminated but there was no experience gained."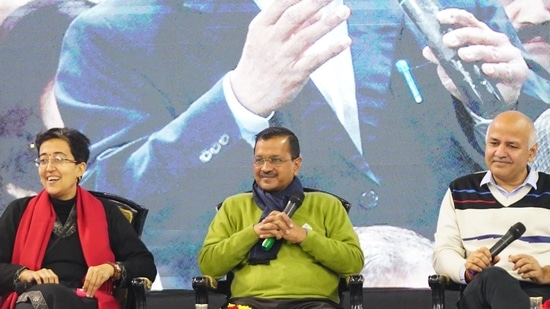 During the event, while taking a tacit jibe at the Centre, the Chief Minister also said that "there is no better investment" than training of teachers after the LG sought a "cost-benefit analysis" of teachers training in Finland - a proposal which has led to a fresh standoff between the AAP government and him. "We have been able to send you (teachers) to foreign countries. I have been the chief minister for eight years. But I have gone abroad just twice - once I went to Rome when Mother Teresa died... and once, I went to South Korea," he stressed in his address. "My motive is to send teachers to other countries. I don't want to go. Other leaders go on monthly basis. We want you to gain global experience. Our government schools have to become better than international schools... not just the private schools," Kejriwal further said, adding that "the government aims to imbibe best practices". "Even our critics agree that the Delhi government schools have seen a lot of improvement over the years. That's not because of us, it's because of the teachers."
"If leaders would have always focused on education in policies, India would have seen a revolution long back. Since 2015, infrastructure and work environment have improved. 'Tent schools' have become 'talent schools. Because of all this, results have improved," the Chief Minister further said. "Even I had appeared for IIT... but I took coaching. Today, students in government schools are able to appear for entrance exams without coaching. All this has happened because of teachers," he said.
He shared the stage with his deputy who on Saturday had hit out at the LG over his letter where he questioned the condition in government schools. The AAP has been boasting of making considerable progress in education and health ever since it came to power. In response to the LG's letter, which raised questions over attendance, results and infrastructure, the Chief Minister and his deputy said it was "an insult" to the effort of the school staff over the years.
"No country can be developed unless it focuses and invests in education," he said in conclusion to his address.