2 stabbed in Paschim Vihar road rage, 2 held
, Hindustan Times, New Delhi
Anvit Srivastava
Mar 17, 2021 09:11 AM IST
Class 10 student and friend arrested for killing two people after a fight over their two-wheelers brushing against each other
Two men were stabbed to death early on Tuesday in Delhi's Paschim Vihar by a Class 10 student and a 19-year-old scrap dealer following an argument after their two-wheelers brushed against each other in a secluded lane, police said. The crime was recorded on CCTV, and the footage was shared widely on the social media.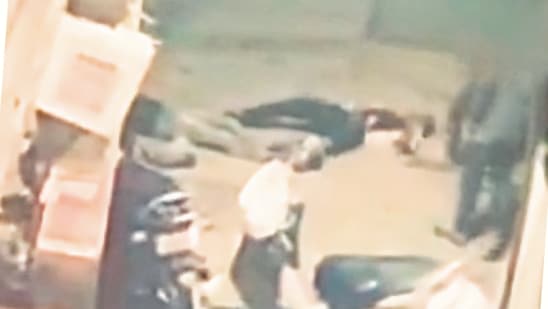 The footage shows an incident of road rage escalating into murder -- one of the victims appears to slap one of the attackers, leading to a scuffle that ends in the attackers taking out knives and stabbing them.
Police identified the victims as 23-year-old Rohit Aggarwal, a resident of Shiv Ram Park in Nangloi, who worked at his father's utensils shop in Najafgarh and also as a civil defence volunteer; and Ghanshyam Ratan, 20, a labourer at a dairy in Nihal Vihar. The two were friends.
A senior officer who spoke on condition of anonymity said the incident took place when Aggarwal and Ratan were returning on a scooter after attending a wedding. When they reached near Udyog Vihar Metro station, a motorcycle brushed past their scooter.
"This led to an argument between Aggarwal and Ratan and the 19-year-old Pradeep Kohli and his juvenile associate aged 17. The two victims left the spot, but Kohli and the Class 10 student caught up with them in a lane and picked a fight. During the fight, Kohli and the juvenile took out a knife and stabbed both Aggarwal and Ratan multiple times. As soon as the duo collapsed, the attackers fled the spot on their bike," said a second senior police officer who asked not to be named.
Locals and passersby reported the matter to the police, and the injured victims were rushed to Sanjay Gandhi hospital, where they were pronounced dead. Their families were informed, and bodies were sent for a post-mortem examination.
While Aggarwal has one visible stab wound near the heart, Ratan was stabbed at least 20 times in his chest, throat and abdomen, police said, quoting initial medical reports.
Also Read | Road rage: 3 men held for attempt to murder in Mumbai
Deputy commissioner of police (outer) A Koan said with the help of technical surveillance and local intelligence, the two suspects were identified and nabbed within three hours of the incident. "Both of them were caught following a raid. Kohli has been arrested and his juvenile aide has been apprehended for the murder. A case has been registered at Paschim Vihar West police station. The knife used in the murder has been recovered from them," the DCP said.
"Whether they were carrying the knife or picked it up on their way, is being probed," the second officer said.
Police have found that the two suspects were drunk at the time of the incident. "They do not have any previous criminal record and prima facie it looks like a crime that took place in the heat of the moment," a fourth officer said.