Yogi targets Opposition over Kashi Vishwanath cleanliness
Brought back from Canada, Annapurna idol reinstalled on Kashi Vishwanath temple premises in Varanasi, Yogi Adityanath says PM Modi has shown how to save India's heritage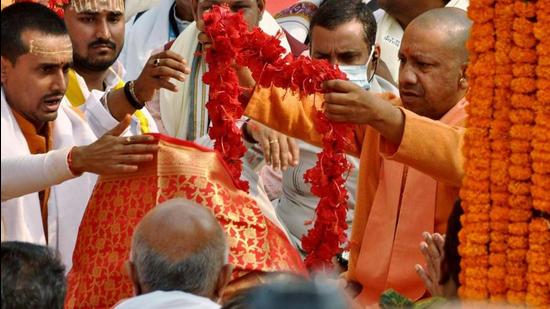 Updated on Nov 16, 2021 01:05 AM IST
Chief minister Yogi Adityanath on Monday said those who came to power in Mahatma Gandhi's name after Independence did nothing to ensure cleanliness around the Kashi Vishwanath temple even though Bapu had made a sharp remark on the filthy condition of the lanes around the temple during his visit to the shrine in 1916.
The Mahatma's words had no effect on the people who came to power in his name after Independence, he said, making a religion-centric pitch to attack opposition parties ahead of the upcoming state assembly elections.
But, over 100 years after the remark, Prime Minister Narendra Modi made efforts and Kashi Vishwanath Dham has become a Divya Dham now, he said at a function to mark the reinstallation of a Goddess Annapurna idol in the Kashi Vishwanath temple premises in Varanasi. The idol has been brought back to India from Canada after 108 years.
"After 108 years, the idol of Annapurna has arrived in Kashi and was reinstalled in Kashi Dham. The entire credit goes to Prime Minister Narendra Modi for bringing back the rare idol of Mata Annapurna to Kashi," Yogi Adityanath said, addressing the gathering at the International Cooperation and Convention Centre "Rudraksh" in Varanasi.
No one else cared about the Ganga before PM Modi and the river now is flowing "aviral" (uninterrupted) and "nirmal" (clean), he said.
Topics
Close Story