U.P.: Acid attack survivors to get free training in beauty course in Lucknow
Aug 09, 2022 12:16 AM IST
Beauty chain salon "Naturals" inks MoU with Chhanv Foundation in U.P. capital. Chhanv Foundation runs Sheroes Hangout Cafes in three U.P. cities, including Lucknow
Sheroes Hangout, a cafe run by acid attack survivors in the state capital, on Monday announced its collaboration with "Naturals"—a beauty chain salon— at an event held at a city hotel.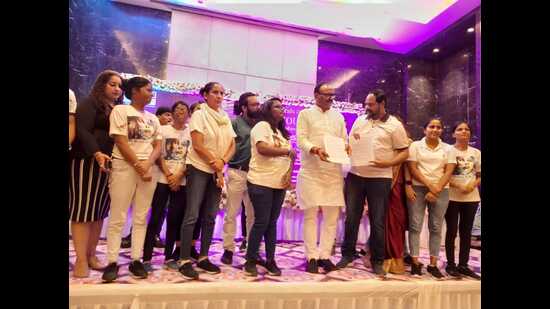 A CSR (corporate social responsibility) partnership was also announced on the occasion wherein "Naturals" signed a memorandum of understanding (MoU) with Chhanv Foundation, a non-profit organisation, which runs the cafe.
Under it, the beauty chain salon will provide free-of-cost training to Kunti and Khushboo—two acid attack survivors—for their skill uplift. A nail art studio will also be set up at Sheroes Hangout cafe in Lucknow to provide an opportunity to the girls who work at the cafe for extra earning.
"The state government will make every effort to employ acid attack survivors. The administration must be stricter in dealing with such serious crimes and ensure that criminals are imprisoned," said deputy CM Brajesh Pathak who was the chief guest at the event.
"Everyone says that behind every successful woman there is a man but I want to tell you it can be anyone. It can be a family also. All they need is a little support and they will hit the sky," said Lucknow mayor Sanyukta Bhatia who was the special guest on the occasion. Bhatia promised all help from the government and also promised to create jobs for acid attack survivors in the civic department.
"In the coming years, we will see the empowerment of these aspiring empowered individuals who will undoubtedly make an impact and demonstrate that disability is not an inability. We hope to employ more survivors in the coming days," said Alok Dixit, founder, Chhanv Foundation.
"These girls will realise their dreams of becoming successful entrepreneurs in the coming years and Naturals will once again allow them to open their salon," said CK Kumaravel, founder, Naturals.
"There are three cafes, one each in Agra, Lucknow, and Noida, and with recent developments there will be two more cafes in Delhi NCR by the end of this year," said Ajeet, chief operating officer, Sheroes Hangout cafe.