UP Board 2023 exams: HS examinees to have roll numbers pre-written on OMR sheets
Jan 28, 2023 10:42 PM IST
Regarding OMR, detailed instructions were sent to all district inspectors of schools on January 25, said UP Board secretary Divyakant Shukla
Keeping convenience of examinees in mind, the UP Board, which will be using Optical Mark Recognition (OMR) sheets the first time in its high school 2023 exams starting February 16, has pre-printed the roll numbers and subjects of the candidates concerned on the OMR sheet. With this, there will be no possibility of a mistake by a student in filling in the sheet during the exams, said a senior UP Board official.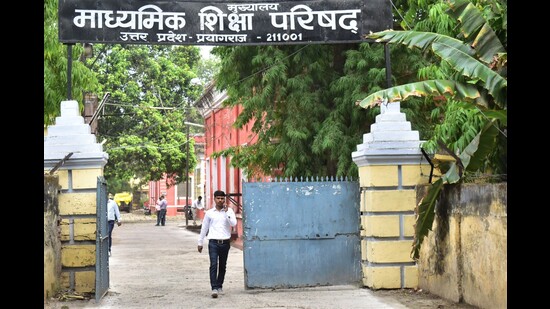 Regarding OMR, detailed instructions were sent to all district inspectors of schools on January 25, said UP Board secretary Divyakant Shukla. As part of the changed pattern of question papers in high school from this year onwards, in the 70-mark question paper, 50 marks will be of descriptive type questions and 20 marks will be of multiple-choice questions (MCQs).
The remaining 30 marks will be of internal assessments. These 20 marks MCQs will have to be answered on OMR sheet. However, if there is a mistake in filling in the OMR sheet, the entire 20 marks could get deducted because the evaluation of OMR will be done by a scanning machine and the computer.
In such a scenario, if the details of the students to be filled on the OMR are wrong, the OMR could end up not getting evaluated at all. According to the instructions sent to DIOSs, a copy of which is with HT, if any mistake is made in filling in the OMR during the exam, the examinees or the invigilators are not to try and rectify it by cutting, erasing or applying whitener etc.
"By cancelling such sheet, an additional OMR sheet of orange colour will be given to the candidate or candidates concerned, in which they will have to manually fill their roll number, subject and other important information," the missive says. Significantly, 31,16,485 candidates are registered for the high school examination-2023 from across the state and will answer part of the question paper on the OMR sheets the first time.
The circles in the main part of the OMR are to be filled in with blue/black ball point pen. It will be the responsibility of the invigilator to match the details filled by the candidates in OMR sheets. Before filling in the OMR sheet, the candidates have been advised to carefully read the instructions written at its back, officials said.
To stop any foul play with OMR sheets, the UP Board has arranged a counter foil system. OMRs have been printed in two parts: Above is the main part and below is the counter foil. After the examination is over, the examination hall invigilator will separate the upper and lower parts of the OMR by tearing them and sealing them in separate envelopes, they add.