Uttar Pradesh can become No. 1 in academics: Governor Anandiben Patel at Lucknow University convocation
Updated on Jan 21, 2023 10:30 PM IST
Universities must reach villages and play key role in development of society, says Uttar Pradesh governor Anandiben Patel at Lucknow University convocation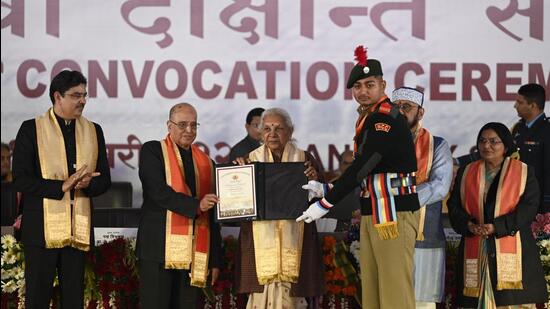 Governor Anandiben Patel on Saturday said Uttar Pradesh has the potential to become the number one state in academics globally.
After Lucknow University, now Gorakhpur University has also obtained the A++ rating from NAAC (National Assessment and Accreditation Council), said the governor, who is also the chancellor of state universities.
It is an indication that there is enough talent among students and teachers and they can do extremely well with the right kind of commitment and leadership by the vice chancellors, she said at the 65th convocation of Lucknow University.
"There is no shortcoming among our youths. The only issue was lack of commitment and leadership. All we had to do was strengthen the infrastructure as per the new requirement. Simply taking lectures was not enough. We should work hard to improve our academics further," he said.
She said that the university must work hard to become world class and develop infrastructure in every area such as research, sports and culture.
Advocating steps for wide studies on Sanskrit, she said the university must prepare 100 sentences in Sanskrit and reciprocate this in all the schools of the adopted village.
Laying a road map for universities, she said universities must reach villages and play a key role in the development of the society.
"University must not train its own students alone, but also focus on schoolchildren and anganwadi workers," she said.
If each college and university of Uttar Pradesh adopts one village each in the next 10 years, then every village of the state will shine and develop, the governor said.
Congratulating the medal winners, governor Anandiben Patel observed that nearly 80% of the 189 medals at the LU convocation were bagged by women students.
She said, "It is a sign of women empowerment. The boys need to relook why only 20% of them received it."
She said that the university should research why women students are faring much better than the men students. She said both should perform equally.
Lucknow University presented 189 medals which were bagged by 101 students – 71 of them women and 30 men. Of the 189 medals, 151 went to women students and 38 to men. The governor warned that gold medals alone will not fetch them jobs as companies look for something else like domain knowledge and skill set
Former Indian Space Research Organisation (ISRO) chairman Dr K Kasturirangan, a Padma Vibhushan recipient who was the chief guest at the convocation, appreciated Lucknow University's efforts to implement the National Education Policy (NEP-2020).
He said that in the coming decade, India will be the most populated country on the globe and will have a huge youth strength. So, equipping youngsters with appropriate knowledge, skills and job readiness would be important to strengthen the country, he said.
He also emphasized on comprehensive liberal education for holistic development and uplift of the society.
Honoris Causa was conferred on Dr Sanjay Singh, CEO, Gennova Bio-Pharmaceuticals Limited, at the convocation. An alumnus of LU, Dr Singh spoke about his bond with the university as his father was a professor of physics there and he had spent more than two decades in the bungalow situated on the campus where he nurtured his scientific temperament.
"After finishing my UG (undergraduate studies), I joined M.Sc in the Biochemistry department headed by Prof Krishnan, a great visionary," he said.
Minister for higher education Yogendra Upadhyaya and minister of state for higher education Rajani Tiwari also addressed the gathering. Vice chancellor Prof Alok Kumar Rai enumerated the achievement of the university, its new initiatives and projects.