Women roped in to spread awareness about menstrual hygiene
Jan 20, 2023 12:17 AM IST
A sanitary pad unit opens in Lko engaging women of 10 villages; they will not only manufacture but also sell the product to rural women
With stigma attached to menstruation in majority of the rural areas, an organisation has taken up the initiative to make village women break their inhibitions and adopt such products which are necessary to keep them healthy.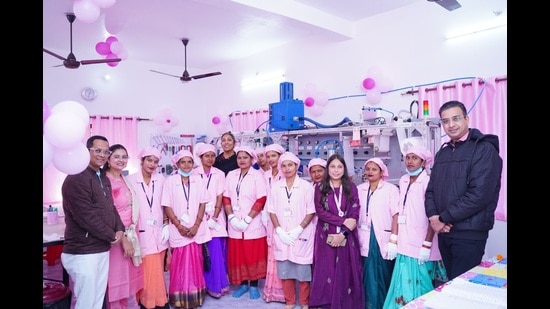 With this objective, a sanitary pad production unit has been inaugurated at Sitapur Road on Thursday which is engaging women from 10 villages around Bakshi ka Talab.
This unit in Lucknow will manufacture and produce sanitary pads which will be sold to women in rural areas at a subsidised rate.
The initiative has been taken by Desai Foundation, a non-profit organisation working for women's health and empowerment. Ten women from the community have been hired to work at the production unit after a rigorous process of training and elimination. Focus groups and surveys were conducted to identify the women who would be able to undertake the work at the production unit. And after testing the abilities of 15 women, ten were selected.
They are going to be paid daily, while the 'sanginis' selected for sales and distribution among the communities will be paid a commission depending on how many units they are able to sell. So far, these sanitary pads are going to be distributed to women in 10 villages (Tarahiya, Kamlabad, Saraiya, Raitha, Barhauli, Shahpur, Mubarakpur, Chhata Meel, Muslim Nagar and Tiwaripur).
"We feel very special that we will be able to earn money by doing something that is beneficial for women," said one of the workers.
"All women should learn how to manage their menstruation in a healthy way," she said. The pads are packages of 8, large ones are being sold at ₹40 per packet and extra large ones at ₹50 per packet.
Nearly 125 women from the rural communities surrounding the area attended the inaugural event, and were excited to become a part of the initiative. Founder of Desai Foundation Megha Desai was also present at the event. "We have already established such units in Gujarat and Maharashtra, and this is our first in Northern India. We hope to expand further as the awareness permeates through to more women, and a demand for their menstrual rights grows in magnitude."