Works of first river bridge on bullet train corridor gain momentum
Published on Jan 25, 2023 12:56 AM IST
he first river bridge on the Mumbai-Ahmedabad bullet train corridor is just four pillars away from completion. The bridge being constructed over Par river in Valsad will be 320 metre-long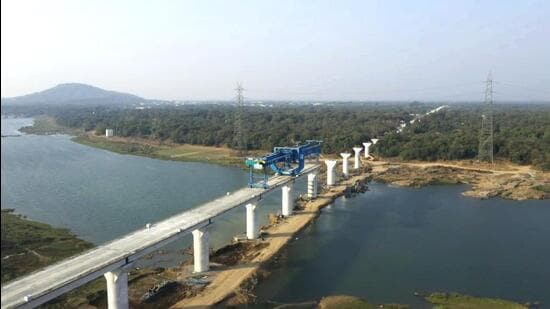 Mumbai: The first river bridge on the Mumbai-Ahmedabad bullet train corridor is just four pillars away from completion.
The bridge being constructed over Par river in Valsad will be 320 metre-long. According to National High Speed Rail Corridor Limited (NHSRCL) officials, the bridge will consist of 8 40 metre-long full-span girders. The authorities are simultaneously working over bridges on rivers Narmada, Tapti, Mahi and Sabarmati.
On the other hand, tenders for a 21-km long underground tunnel, including a stretch passing below Thane creek, is expected to be opened in early February.
The tunnel for a double-line has been proposed between Bandra Kurla Complex (BKC) and Shilphata. This includes a 7-km-long under-sea tunnel across Thane creek. "We had invited tenders on September 23, 2022 and it is expected to be opened on February 9. We have already opened financial bids for constructing a station at BKC in December 2022," an official said.
This will be the first under-sea tunnel in the country. The tunnel will be built using a tunnel boring machine (TBM) and the New Austrian Tunnelling Method (NATM).
It will be a single tube tunnel to accommodate twin tracks for both up and down trains. Sources said that the tunnel will be around 25 to 65 metres deep with the deepest point being 114 metres below Parsik hill near Shilphata.
Special TBMs with a cutter head width of 13.1 metres will be used for the project. NATM will be used between Ghansoli and Shilphata as the topography is inclined. Other civil works are also seeing some progress as the tendering process is on and likely to be opened on March 15. These works include construction of viaduct, bridges, tunnels and maintenance depot and three stations at Thane, Virar and Boisar.
Moreover, the process of land acquisition, which was a major issue in Maharashtra for a long, too seems to be on track now. While the overall land acquired for the 508-kms long route stands at 98.87%, in Maharashtra the rail authorities have acquired 98.76% land and 98.91% in Gujarat.
Meanwhile, on January 23-24, a high-level Japanese delegation led by Masafumi Mori, special advisor to the prime minister of Japan, and senior officials along with managing director of NHSRCL, Rajendra Prasad, visited various construction sites, including Surat station, casting yards among other sites. In Gujarat, the works are underway at better pace with 100% contracts awarded for construction of civil works, bridges, stations and tracks on the entire 352-kms passing through eight districts of Gujarat, Dadra and Nagar haveli.
"The first rail level slabs of 50 metres each have been placed at Surat and Anand high speed rail stations. We have also completed work on a 27.6 km-long viaduct that includes 6.28 km of continuous viaduct near Vadodara and remaining at different locations," another rail official said.
The works on eight HSR stations from Vapi to Sabarmati are also under various stages of construction. A pile has been cast over a length of 240.37 kms and piers have been built over a stretch of 137.89 kms and 1,175 girders over 47 kms have been laid.