Ganga Vilas reaches Ramnagar, locals reach port to take selfies with longest river cruiser
Published on Jan 10, 2023 09:22 PM IST
The Ganga Vilas cruiser -- which is scheduled to be flagged off by PM Modi on January 13 -- has become the topic of discussion at paan shops, tea stalls, and other public places where people assemble in Ramnagar.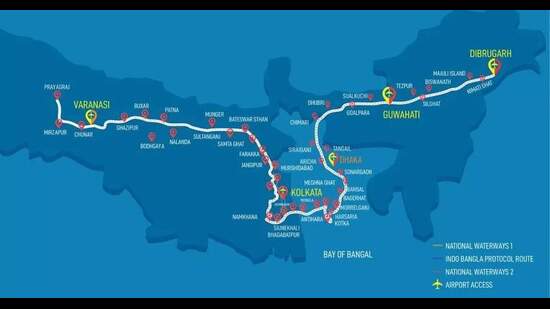 VARANASI Braving bone-chilling cold waves, hundreds of locals thronged the Ramnagar port where Ganga Vilas, the longest river cruiser, docked on Tuesday morning. Excited residents were seen clicking selfies and making social media video clips with the cruiser in the background.
This excitement was striking as not every ship or foreign tourist group catches locals' fancy in Ramnagar. The town has been hosting foreigners in large numbers since 2008 when UNESCO classified its famous Ramlila as an intangible cultural heritage of humanity. Later, in 2018, Prime Minister Narendra Modi inaugurated Ramnagar's port, India's first inland waterway corridor, which paved way for ships to dock in the town. However, the luxurious Ganga Vilas managed to grab the attention of locals like never before.
Talk of the town
The Ganga Vilas cruiser -- which is scheduled to be flagged off by PM Modi on January 13 -- has become the topic of discussion at paan shops, tea stalls, and other public places where people assemble in Ramnagar. Pankaj Chaurasia, a paan shop owner in Ramnagar who came to the river bank with his children on Tuesday to see the cruise, said, "I have seen such cruises only on television. It is even bigger than what we imagined. It's like a floating five-star hotel."
Another Ramnagar resident Sanjay Majhi, who came to the port, said, "According to newspaper reports, the cruiser was to arrive here on January 6. Since then, we had been eagerly waiting for it. Finally, on Tuesday morning, we got to see it. It's hard to describe how majestic it looks. You have to see to believe it. I have never seen anything like this before."
Several people from Varanasi and neighbouring districts have also come to Ramnagar to check out the cruiser, which is expected to remain anchored here before being taken to Varanasi for the flag-off ceremony.
'A once-in-a-lifetime experience'
Going by the verdict of the Swiss tourists who were onboard the vessel, the hype around Ganga Vilas is anything but unsubstantiated. Several of them described the cruise a 'once in a lifetime experience'. Brigitte Reichlin, a Swiss national, told HT, "Initially, I was planning to take a flight to Varanasi but then I came to know about this cruise. As I wanted to make my trip to India a memorable one, I opted for Ganga Vilas."
After deboarding Ganga Vilas, the Swiss tourists visited the tomb of General Lord Cornwallis in Ghazipur. This tomb -- protected monument under the Archaeological Survey of India -- was built in memory of General Lord Cornwallis, an administrator and a commander-in-chief of the British Army. Subsequently, the tourist group reached Varanasi where they visited Dashashwamedh Ghat to witness the famous Ganga Aaarti. They also visited the newly renovated Kashi Vishwanath temple and other places of tourist interest in the district, said Jitendra Singh, co-ordinator with Ganga Vilas Cruise.
Ganga Vilas entered U.P. on Jan 8
Ganga Vilas left Kolkata on December 22 with 32 Swiss tourists onboard. It was scheduled to reach Varanasi on January 6. However, due to extreme weather conditions and poor visibility, there was a delay and the cruiser reached Ghazipur, 65 km from Varanasi, on January 8. "Due to the delay, they (passengers) checked out on Sunday morning itself and reached Varanasi the same evening by road. The ship, meanwhile, reached Varanasi on Tuesday," said Priti Srivastava, deputy director of tourism department, Varanasi.
After PM Modi flags off Ganga Vilas on January 13, it will embark upon a 50-day-long voyage from Kashi to Dibrugarh (Assam). Officials engaged in the ship operation said the cruiser would pass through five states and 27 rivers of India and Bangladesh. The ship would make pitstops at over 50 architecturally important places, including world heritage sites. "It will also pass through national parks and sanctuaries, including the Sundarbans Delta and the Kaziranga National Park to make the journey all the more adventurous," officials added.
According to the plan, the cruise route will start from Varanasi and reach Patna on the eighth day of the journey, passing through Buxar, Ramnagar, and Ghazipur. From Patna, the cruise will leave for Kolkata and reach there on the 20th day. From Kolkata, it will leave for Dhaka and from there, it will leave for its final destination -- Dibrugarh -- via Guwahati and Sibsagar.
Equipped with 5-star amenities
With the capacity to accommodate 80 passengers, Ganga Vilas boasts of 18 luxury suites and five-star facilities. "The cruiser comprises 18 tastefully adorned suites. It is built with a unique design and a futuristic vision. Ganga Vilas blends cultural and modern amenities with minimalistic designs and defines the boutique experiences on the water. The suites have soothing interiors with dedicated colour palettes. These have been furnished with numerous amenities such as a bathroom with shower, convertible beds, French balcony, LED TV, safe, smoke detectors, life vest, and sprinklers," said officials of the U.P. tourism department.
Additionally, the cruiser also has a grand restaurant, spa, and sundeck. "Its 40-seater restaurant, located on the Main Deck, consists of a few buffet counters serving Continental and Indian delicacies. The al fresco ambiance of the Upper Deck features a bar furnished with Real Teak Steamer Chairs and coffee tables that are enough to give a one-of-its-kind cruising experience to the guests," officials added.