A Calmer You by Sonal Kalra: Do you own a lot of stuff? Try minimalism
Updated on Sep 23, 2017 06:56 PM IST
Take your cue from two young Americans, Joshua Fields Millburn and Ryan Nicodemus, the masters of minimalism. Three simple rules can make your life lighter. They'll work. Ma kasam!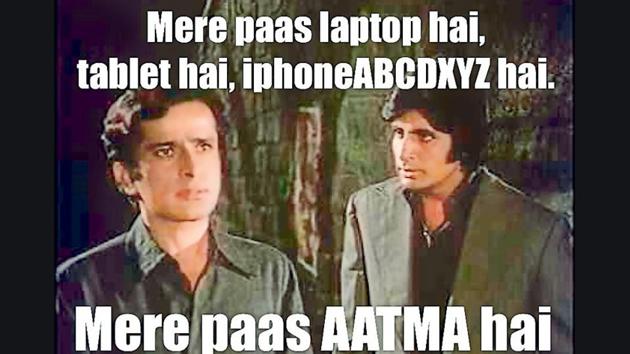 This word is weird. Actually, this world is also weird, but that some other time. Right now, let's look at this word — STUFF. Take a look around, wherever you are. All that you'll see is stuff. More, and more, of it. Possessions, or simply, things — whether they are there to decorate, add aesthetics, provide utility, or simply to flaunt.
We are perpetually drowned under objects of all kinds, and while a lot of us can sense the continuous stress that engulfs our day-to-day existence, we find it tough to pin that stress down to there being too much stuff in our lives. I'm talking about it here today because I just finished watching a lovely documentary called 'The Minimalists'. It's not a new film, I just happened to watch it today. It shows the life of two young American men — Joshua Fields Millburn and Ryan Nicodemus — who quit high-flying corporate jobs and embarked on a journey of minimalism, rediscovering joy and peace in their lives.
Some of you may have been practising it already but I've always been a wannabe minimalist. I keep saying that I want my life to be decluttered, but all I do is to keep on buying, and hoarding, stuff. And I find it difficult to discard things or part with them. What these two men propagate, through the message of minimalism is to enable us to free our lives of the stress and worry of possessions. A minimalist, as per the commonly understood definition, is a person who doesn't own any more than 100 things at any given point in life. It may sound like a big enough number, but it's not. These 100 'possessions' include every single, tangible object — of personal use or otherwise.
I know of people who have more outfits than that, just as a small part of their wardrobe. Joshua and Ryan contend, in defence of their way of life, that "Minimalism is a tool that can assist you in finding freedom. Freedom from fear. Freedom from worry. Freedom from overwhelm. Freedom from guilt. Freedom from depression. Freedom from the trappings of the consumer culture we've built our lives around. Real freedom."
I wouldn't have felt the crux of these words as strongly, had this documentary not been what I watched right after watching the launch of Apple's new iPhone edition. For close to a lakh of rupees, we'll now get the dream phone that we can now drop and break both the front and back of. And, we'll all still be making a beeline for it right after, if not before, it hits the stores. Nothing wrong at all in doing so, we can argue. After all, we work hard to be able to own things that we want in life. Just that somewhere we are equating the exhilaration that follows a new possession with happiness.
Had it been happiness, the one with a hundred outfits spilling over from the wardrobe would have been dying of joy. Sadly a lot of them are dying, but of depression. Anyway, it's one theory that the less you possess, the less you have in life to worry about. I'm sure the more articulate among you can successfully argue the opposite if you believe otherwise. But in case you happen to be like me, who have felt the emptiness amid the clutter, and are intrigued enough by the concept of minimalism, here are three simple rules to try it out. Arrey, try it out, James Bond. You and I can always come back to slogging for iPhone007 if it doesn't work out.
1) Buy 1, Give 1: Enough of buy 1, get 1 offers and stuffing our lives with things that we own only because they were free. Of course, if you need something, nothing should stop you from buying it, but a lot of stuff we have just sits in our universe also because it was 'on sale'. How about taking a pledge that you will buy a new outfit or accessory ONLY when you will donate one from your existing wardrobe? Pehle ek haath se do, phir doosre haath se lo. This way, we'll at least reach the target of maintaining the total number of items we own to what it currently is. Once we achieve that, we'll get to the stage of reducing that number. Step by step.
2) Untouched-for-6-months: Do you see my hard work in having coined these innovative names for the rules? Haina? Now, let us together work on it, please. This one would involve looking for those things around us that we have not used, not even touched, in the past six months. And giving them away for good use. I don't mean the Picasso on your wall or the book on your shelf, so don't give me a killer look. I refer to stuff that lies about in the almirah — half used cosmetic items, dresses that don't, and won't, fit us because, guess what, we are not going three sizes down overnight. And I know that if by some devil's luck I do, I'll be thrilled enough to buy new clothes! So would you.
3) Minus-5 Saturday: If we follow this one sincerely, it'll make your weekend so much more stress-free. God promise. Every Saturday, look for five things at home, or your work desk (if that, too, is a treasure chest!) that will give someone else more happiness than they are giving you. It could even be things that you like, but someone else 'needs'. A toy that your li'l one has outgrown. The diary that you kept with the intention of writing in daily, but never do. The candle that's just catching dust as the 45th item in your living room cabinet. Give away, yaar. Let's get some breathing space in our life. Thodi hawa aane do.
Sonal Kalra has six plain black T-shirts. None fits her anymore. She would have given them away but they are best friends of each other in the closet. What to do? Mail at sonal.kalra@hindustantimes.com, facebook.com/sonalkalraofficial. Follow on Twitter @sonalkalra