The new Jammu and Kashmir ad campaign goes beyond tourism
Oct 08, 2017 01:33 PM IST
This campaign video is important because after the relentless and caricatured demonisation of the ordinary Kashmiri by primetime prejudice, here is finally an alternative view that humanises and validates the warmth of the Kashmir I know and love
I have always argued that the index of 'normalcy' in the tumultuous state of Jammu and Kashmir must never be measured by over-simplistic indices like over-booked flights and tourists on the Boulevard in Srinagar. Every government has made that fatal error, only to discover that turmoil, violence and the rage of the street can make the tourists vanish as swiftly as they arrived.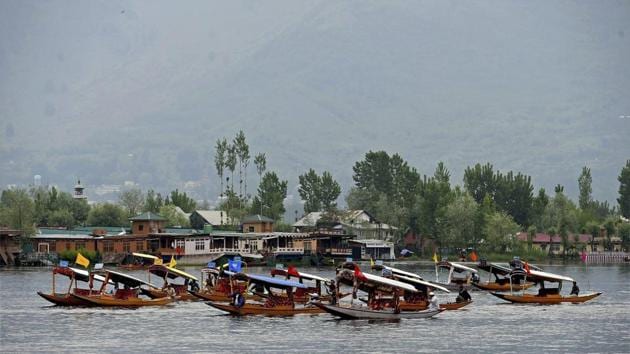 Yet, today, I want to talk about a new ad-film released by the tourism department of the state. Not just because I hope for visitors to return to the wounded Valley or because I think this will address the genesis of the trouble in the state; but because after the relentless and caricatured demonisation of the ordinary Kashmiri by prime time prejudice, here is finally an alternative view that humanises and validates the warmth of the Kashmir I know and love.
The video — already a viral phenomenon on the Internet with millions of shares — chronicles the vacation of a young couple in Srinagar. The twist in is the tail when, in a case of mistaken identities, the couple discovers that the man who has spent his day shepherding them around is not the driver they hired, but a stranger who has made time for them. As they huddle around a fire soaking in Kashmir's majestic beauty, the tagline appears: Jammu and Kashmir: 'The warmest place on earth.'
When one of the creative brains behind the campaign, Jaibeer Ahmed first gave me a preview of the film, I had an inexplicable response. Tears streamed down my face and I couldn't quite determine whether this was sadness or nostalgia or simply the effective sentimentalism of the product. I cut my teeth as a journalist reporting from the state in my early twenties and it has been a life-long obsession right into my mid-forties.
It's not that I am romanticising the situation in the state; in fact I am warning against it. And it's not even that all my experiences in Kashmir have been happy. For speaking my mind and holding a complex position that is neither Left nor Right, I have sometimes been abused by ideologues on all sides of the trenches. There have been moments — especially during the worse years of militancy — that reporting on the ground came with grave physical risks. And for calling out what I see to be an increasing religious radicalisation I have been sneered at and mocked by Kashmiri secessionists.
So why did this ad-campaign make me cry? Well, because journalism is often about the intimacy of strangers and this little video quietly brought home all the varied moments of kindness and affection that it has been my privilege to experience in J&K. It's also an effective antidote — though it's sad that we need one — to the shrill hatred that has hijacked the Kashmir conversation. Even though no less than the prime minister called for embracing Kashmir conceding that the way ahead could not be built on 'Gali' or 'Goli'(bullets or abuse), in today's age of media hysteria and social media toxicity, the mere mention of Kashmiri people can invite a maelstrom of malice. I learnt that when I used a profile picture on Twitter that shows a Kashmiri woman hugging me tight and planting a kiss on my cheek. The moment is all the more special to me because I have no idea who the woman is and do not even know her name. She recognised me from television and enveloped me in her steely warmth.
The tourism video spoke to me because I have actually experienced the open-hearted affection of complete strangers. Yet, this picture triggered a flood of online abuse with many bigoted tweets on my love for 'Kashmiri Muslims', the emphasis on religion reinforcing the horrible pettiness with how some people regard the state. For me, this tourism film captures the zeitgeist of an earlier, simpler Kashmir when we could still talk to each other, without personalising our disagreements.
Predictably the tourism campaign has been slammed by the extreme Right on all sides, both within Kashmir and outside it. Some argue that it has failed to reference Kashmiri Pandits and their enforced exodus (a Pandit and a Muslim-Vibha Saraf and Mudassir Mir have sung its theme song); others say it has candy-flossed issues of anger and alienation. But come on — how can any five minutes ever capture the complete, multi-layered story of Jammu and Kashmir?
What this film does is to allow us to be gentler about Kashmir — and for Kashmiris to be gentler to themselves. In an age of violence, needless aggression, polarisation and TV bigotry, that alone is something to be grateful for.
Barkha Dutt is an award-winning journalist and author
The views expressed are personal