Why 'Ab ki Baar, Trump Sarkar' will not impress Indian-Americans
There are multiple factors that make his play for Indian-American votes something of a Hail Mary pass. Few will be surprised if he even underperforms Mitt Romney's 2012 tally with the community. So far, Indian-Americans haven't gone gaga over MAGA, the hashtag for Trump's Make America Great Again slogan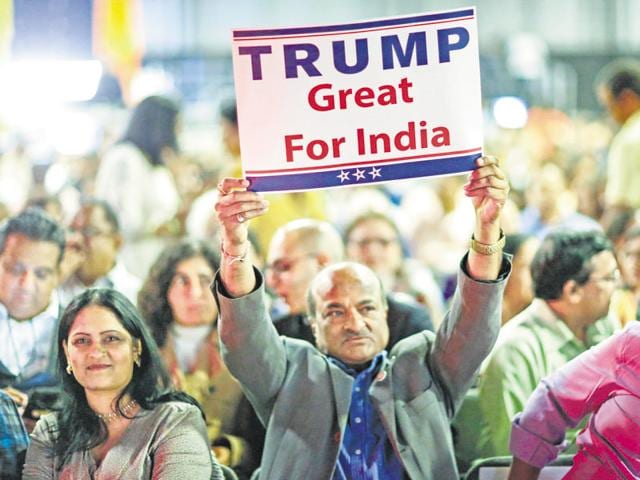 Updated on Oct 29, 2016 12:06 AM IST
A cringe-worthy Donald Trump video dropped this week. No, it wasn't another episode of the Republican presidential candidate's serial sleaziness, but rather a campaign video endorsed by The Donald targeted at Indian-Americans. Briefly, it culls clips from his short speech at the charity event organised by the Republican Hindu Coalition in Edison, New Jersey earlier this month. Featured prominently is Trump's gushing over the Indian prime minister and a grinning image of Narendra Modi. Just in case this pandering missile missed its target audience, there's the line, "Ab ki Baar, Trump Sarkar."
Read | 'Ab ki baar Trump sarkar': Donald reaches out to Hindu Americans with new ad
We've watched this film before. In another fall election in North America last year, Modi made a cameo in a campaign video. That was in the Canadian parliamentary election last October, and that particular commercial was tagged "Harper Sarkar, Fir Ek Baar", referring to Canada's then Prime Minister Stephen Harper. Days later, Liberal Party leader Justin Trudeau swept the elections. Harper is no longer the leader of the Conservative Party and has also resigned his parliamentary seat and stepped away from politics.
Trump, however, is taking that mauled mantra and chanting it to the handful of faithful he has within the Indian-American community. His campaign may believe Hindus in America, particularly, will be receptive to his anti-Muslim rhetoric, and his daughter Ivanka appearing at a Diwali function at a Virginia temple will put some sparkle into his step, but polling consistently suggests he will be lucky to capture 20% of this demographic's vote.
Read | This election, Indian Americans in Virginia's Loudon county are the kingmakers
There are plenty of reasons why Trump's efforts have proved as effective as a damp pataka. Trump may vow to be India's best friend, but Indian-Americans largely realise that the next occupant of the Oval Office will almost certainly need New Delhi's co-operation. This isn't just a function of a high growth economy, but as the Asian architecture alters, with a China-Russia axis emerging, and even the Manila dissing Washington, the relationship with India is possibly among the few promising bilateral propositions for the United States.
Trump may have garnered some traction with his dark and dire vision of a Democrat-led government by exaggerating economic anxieties, but Indian-Americans are also among the most affluent groups in the country and aren't quite living the American nightmare that he has dreamed up.
Then there's his focus on immigration. Trump's positions have proved offensive even to those affiliated to Sangh frontal units in the US. A couple of them pointed out that a minuscule minority, as Hindus are, should be very concerned over the trickle-down effect of such xenophobia. It isn't as if Trump has done much to tamp down tempers. In fact, his approach has been to attack the H1B programme, one that has been the pathway into the US for a large section of Indian-Americans.
Read | Clinton and Obama: First ladies make an odd political couple
And while Trump takes a feigned shine to Hindu Americans, his party's evangelical base has always dulled the Republican Party's outreach to this community.
Finally, the battering that the Trump brand has taken will curb his support among Indian-Americans just as it has among the general populace. While two of every three Indian-Americans have traditionally leant Democrat, that number could rise as votes are tallied on November 8. And the Clintons have gained the community's affection over decades. In fact, in 2008, they vastly preferred Hillary Clinton to then senator Barack Obama in the Democratic Party primaries, although the president has since nursed this constituency, and also nurtured a new generation of Indian-American leaders.
The Trump video was distributed along with a fund-raising email that states: "Mind it, this is the only ethnic group Mr Trump addressed in such large numbers in this entire campaign." Even so, multiple factors make his play for Indian-American votes something of a Hail Mary pass. Few will be surprised if he even underperforms Mitt Romney's 2012 tally with the community.
Read | Trump closes gap with Clinton ahead of North Carolina campaign
So far, Indian-Americans haven't gone gaga over MAGA, the hashtag for Trump's Make America Great Again slogan. As with the majority of American voters, they look set to opt for the obvious over the odious.
Anirudh Bhattacharyya is a Toronto-based commentator on American affairs
The views expressed are personal
Close Story