1st Test, Day 3: Axar gives India the edge after Latham masterclass
1st Test, Day 3: Axar Patel's fifth five-wicket haul in seven innings helps India end Day 3 with 63-run lead.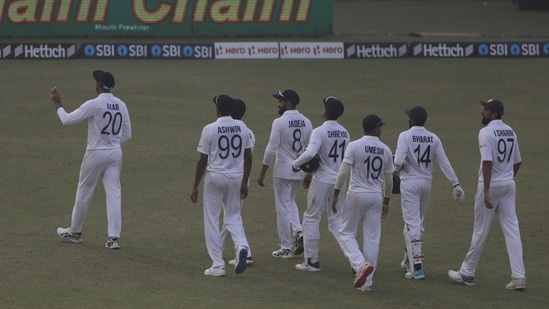 Updated on Nov 27, 2021 07:36 PM IST
India ended Day 3 of the first Test firmly on top after left-arm spinner Axar Patel starred with a five-wicket haul (62/5) on a slow turner at the Green Park Stadium here on Saturday. The hosts dismissed the Kiwis for 296 before losing opener Shubman Gill in the second over of their second innings. Mayank Agarwal (4*) and Cheteshwar Pujara (9*) took India to 14/1 at stumps, extending the lead to 63 runs on a track that will become progressively treacherous over the next two days.
Overnight 129/0, New Zealand could muster only 167 runs on the day despite opener Tom Latham's heroic 95. The momentum swung India's way in the final session after Patel hit his stride.
Coming off a 27-wicket haul from the home series against England earlier this year, Patel claimed his fifth five-for in just his seventh bowling innings. He consistently landed deliveries within the stumps and hit the good length and short of length areas, besides finding the ideal pace to extract bite from the pitch. Patel's pace hovered around 90 kmph, and each time he hit the rough, particularly when he went wide of the crease, the ball stopped or skidded through.
This was also Patel's longest bowling effort---he bowled for 34 overs on Saturday. All three spinners---Patel, Ravindra Jadeja and Ravichandran Ashwin---bowled with an economy of less than two runs per over, as India ensured no easy runs were leaked even when wickets were hard to come by. Once the first breakthrough came, Patel didn't need a second invitation to run through the Kiwi line-up. Sliding from 197/2 to 249/6 by tea, New Zealand added just 47 runs in the final session.
The hosts were jolted early when wicketkeeper Wriddhiman Saha complained of a strained neck and did not take the field. Reserve keeper KS Bharat was scratchy in the beginning but improved quickly to hold on to a low catch off Will Young (89) who was hoodwinked by a straighter delivery from Ashwin.
Kane Williamson arrived to a roaring applause, and quickly found his rhythm. Unlike Latham who used his front foot to smother turn, Williamson chose to negotiate Jadeja and Ashwin from the crease, using his soft hands to play late.
The Ashwin versus Williamson duel, one of the intriguing sub-plots of New Zealand's last tour to India, was a brief but fascinating affair. As he did with Williamson in 2016, Ashwin left the covers vacant and crowded the batter with a slip, forward short-leg, backward short-leg and a short mid-wicket, inviting him to drive.
Williamson curbed the temptation admirably, often deciding to leave the balls or dead-batting them. When Ashwin looped one on the fourth stump line, the Kiwi skipper knocked the ball straighter---to mid off---with subdued extension of his elbows.
Ajinkya Rahane, who had delayed the new ball by five overs presumably to give Ashwin enough time to plot his wickets, probably sensed that his counterpart was reading the plans well. The new ball was duly taken and tossed to Umesh Yadav, who rapped Williamson on his pads the stroke of lunch. TV replays ruled that the ball was heading for stumps, and India finally had an opening.
Williamson's fall was a shot in the arm for India. While Latham was proving immovable at one end, spinners began to chip away at the other. Ross Taylor played inside the line to the one that turned slightly, Henry Nicholls missed the attempted sweep and was hit in front, debutant Rachin Ravindra was bowled through the gate after Jadeja hit the rough and the ball shot through.
New Zealand lost Williamson, Taylor, Nicholls, and Latham in the space of 30 runs, and although Tom Blundell and Kylie Jamieson stuck around for 94 and 75 balls respectively, the Kiwis were always going to be in the arrears.
Latham, the lone ranger
Meanwhile, Latham put up a masterclass of playing spin in low, slow conditions. The key to his success was assured footwork, that stemmed from Latham's clear intent. He never looked hassled in attack or defence, and on the few occasions that he was beaten by turn, he didn't let that affect his game.
The 29-year-old rode his luck too, when in the 73rd over of the innings, he was trapped leg-before by Ashwin. The on-field umpire ruled it not out and India didn't review the decision but replays showed no inside edge and the ball going on to hit the stumps. Latham, then on 66, went on to bat for 30 more overs.
That, however, must not discount the sheer class and discipline of his knock. India threw everything they had at him, including an 11-over unchanged spell from Ashwin in the morning session. The seasoned off-spinner, despite conceding only 19 runs in that spell and accounting for Young, could barely bother him. Latham negotiated Ashwin with an intelligent mix of dead bat stonewalling and nimble footwork. When Ashwin overpitched, Latham swept him for four. When he came round the wicket across the umpire, Latham simply offered his broad bat.
Jadeja kept two men back on square-leg to deter Latham from sweeping. A slip, short leg, and leg slip could only watch in frustration as the batter simply skipped down the track and defended. Jadeja fired the next one on Latham's middle and leg stump, and the southpaw tapped him fine for four, beating deep square leg to his left.
Latham looked set for his 12th Test hundred, but his innings was cut short when he hopped down the track to Patel. Dropped short, the ball took an inside edge and rolled on to Bharat who whipped off the bails with Latham well short of the crease.
Topics
Close Story