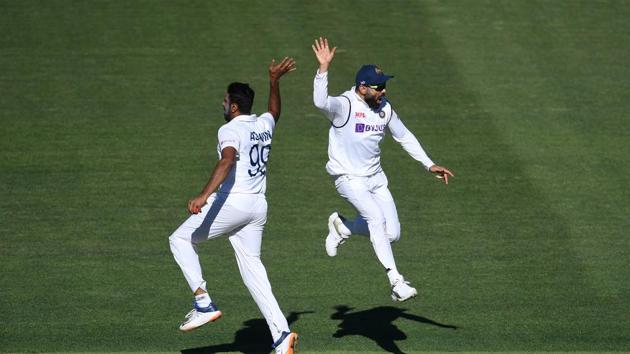 Adelaide Test, Day 2 report: Aussies to ashes, by Ashwin's turn
India vs Australia: Off-spinner's 4 for 55 in a terrific bowling show gives India 53-run first innings lead.
UPDATED ON DEC 19, 2020 12:06 AM IST
Tim Paine spat into the grass and clapped his keeping gloves together as Pat Cummins ran in to bowl the last ball of the second day of the Adelaide Test. On strike was Jasprit Bumrah, in his role as a nightwatchman, hoping to keep out the 12th ball of his innings. Cummins had already tested Bumrah's skill-level against the yorker a few times, so now he pitched the ball behind a length and angled it away from the batsman. Bumrah swayed away from the seaming ball and smiled. So did both Cheteshwar Pujara and Virat Kohli in India's dressing room -- the captain especially pleased with a fruitful day's play that saw his side work hard for a hefty first innings lead.
The reason Bumrah was out there in the first place was because opener Prithvi Shaw couldn't do what the nightwatchman had – keep the targeted ball away from his stumps. After a two-ball duck on Day One, Shaw's Test match got even more miserable with a run-a-ball score of 4, this time bowled by Cummins. And the reason India's second innings ended the very day that had begun with their first was because, in the space of two-and-a-half sessions, Kohli's bowling terrific attack had cleaned out Australia for 191.
India vs Australia - 1st Test, Day 2 - Highlights
All the bowlers barring a luckless Mohammed Shami were among wickets but the real mastermind of Australia's downfall – and hence India's vital first innings lead of 53 runs – was the irrepressible Ravichandran Ashwin. Every time a series is played away from the subcontinent, Ashwin seems to take on two oppositions – the home team and his doubters. On Friday, the off-spinner responded with 4/55, his best bowling figures in Australia over four tours. They were all key wickets, but none more important than the one he took in his first over which led to Australia's big slide, the scalp of the ever-dangerous Steve Smith.
Before he eventually dismissed him with the final ball of his opening over, Ashwin had nearly run Smith out with his second ball. But a full-length dive had ensured the best-ranked Test batsman in the world didn't meet the same fate as the second best in ICC's rankings, Kohli from Thursday. On Friday, however, Smith didn't live up to either ranking or reputation. Stuck in a rut after getting off the mark first ball, Smith didn't score a run for the next 28, the last of which put him out of his misery. Smith poked at a faster one by Ashwin that didn't turn and first slip Ajinkya Rahane did the rest.
ALSO READ: 'Indians are in a Christmas mood', Sunil Gavaskar reacts to India's shoddy fielding
Spilled chances
Smith was gone but his doppleganger, Marnus Labuschagne, was still around. And he was living a rather charmed life. No.3 Labuschagne had walked out to bat at the fall of opener Matthew Wade's wicket, trapped leg-before by Bumrah. His exaggerated leave off the first ball – a carbon copy of Smith's – made even Bumrah laugh. But that cheer was wiped out of Bumrah's face when the next ball, an edge, nicked Wriddhiman Saha's gloves and raced away for four.
A couple of overs later, it was Bumrah's turn to drop a straightforward chance to end Labuschagne's stay, after a mistimed pull off Shami narrowed in on him at fine-leg. But Bumrah was further away from the ropes than he assumed and, to make matters worse, the drop spilt over the boundary. On the other side of dinner, Labuschagne was handed yet another life – this time a mistimed pull off Bumrah popping in and out of Shaw's palms at midwicket. In Adelaide, Shaw couldn't catch a break, or the ball.
ALSO READ: 'Would be subbed off by a concussion sub': Prithvi Shaw brutally trolled on Twitter for dropping a catch
Labuschagne was then on 22. When Australia took tea, he had scored exactly half of Australia's team runs -- 46 out of 92/5, a fair distance away from India's first innings total of 244. Three of those wickets were Ashwin's. After having deceived Smith, the off-spinner caught on to a leading edge from Travis Head's bat off his own bowling and ended Cameron Green's maiden Test innings, a diving Kohli at midwicket providing more than a little help with a superb catch.
Labuschagne added just one more run to his score in the final session, rapped on the pads by an Umesh Yadav ball that kept low. Yadav added to his tally in the same over by getting rid of Pat Cummins. Fending a nasty bouncer, the catch was snapped up at gully. Australia were now 111/7 and would certainly have conceded a three-digit first innings lead had captain Paine not played a leader's knock.
ALSO READ: McGrath unhappy with Australia's defensive batting
Tim's a Paine
Plenty has been said about Paine's lack of big scores at the Test level, including the incredible fact that Australia's former head coach Darren Lehmann had a more recent first-class century than Paine when he was made Test captain in 2018. But Paine had struck an unbeaten 111 for Tasmania on this very ground, just before this series began. It was only his third first-class hundred, and on Friday he carried that confidence over to the Test level and proved his value.
Paine's partnerships with numbers 9, 10 and 11 added an invaluable 80 runs to Australia's score, thanks largely to his unbeaten 73 – the second highest score of this match after Kohli's 74. Unlike Kohli or anyone else in this match, Paine scored at nearly a run-a-ball. His assured play on the off-side – cuts and drives galore – earned him plenty of boundaries through India's attacking fields and Paine's faith in the tail helped it wag.
It was when Paine hadn't farmed the strike that the Australian innings ended; No.11 Josh Hazlewood falling to the first ball of a Yadav over. This left India with eight tricky overs to negotiate, off which only six could be bowled due to time. Still, that was more than enough balls to extinguish Shaw's role in Adelaide, and perhaps even from the next Test in Melbourne.
Close