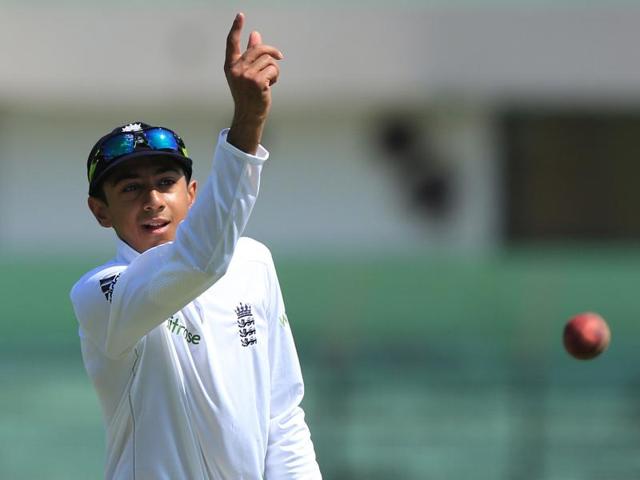 Haseeb Hameed on familiar ground as he gears up for debut against India
Haseeb Hameed, who honed his skills in Mumbai's maidans, will become the fifth-youngest player to debut for England in the Test match against India in Rajkot.
Hindustan Times | By Harit N Joshi
, Mumbai
UPDATED ON NOV 08, 2016 03:18 PM IST
Haseeb Hameed is all set to become the youngest debutant to open the batting for England in the Rajkot Test against India.
Hameed, aged 19, is the fifth youngest debutant for England. Brian Close is the youngest at 18 years and 249 days, followed by John Crawford, Denis Compton and Ben Hollioake.
Speaking on Hameed's selection, England skipper Alastair Cook said, "Considering his age, he has scored a lot of runs in whatever cricket he has played, that means he is good. People like Ashley Giles have seen something good in him, so he must be good.Now that we have taken him, it means he is going to play for some time."
Hameed is all set to become skipper Alastair Cook's second opening partner in the space of one month, with Ben Duckett having opened in the Bangladesh series.
While this is a good time for Haseeb on the field, off the field, there is celebration as one of his elder brothers Nuaman is all set to tie the knot in his hometown Bharuch, Gujarat.
The excitement of touching down in Mumbai was palpable from his tweet as soon as he boarded the flight from Bangladesh after the drawn two-Test series. "Onto India now, always a special place to travel to. Incredible country with an amazing passion for the game," Haseeb tweeted on Sunday.
It is in India when Haseeb fell completely in love with cricket in 2004. Haseeb's eldest brother Safwan was playing a match at the MIG Cricket Club in Bandra when the two brothers met Sachin Tendulkar, who had come for a practice session. Haseeb, only seven at that time, who was accompanying his brother, was lucky to click a picture with the Indian batting legend. "There was a sea of people waiting to meet Sachin. That's when Haseeb first got a feel of cricket and the passion for the game in India. That's when he decided that cricket is going to be his future," Safwan told Hindustan Times on Thursday.
India is not just a special place for Haseeb because it's his father Ismail's birthplace. It is on Mumbai's maidans where he learnt his technique to bat.
As a 13-year-old, Haseeb made his first trip to Mumbai in 2010 because his father wanted him to learn the famous Bombay school of batsmanship — the khadoos way.
Haseeb's father got in touch with his old friend Iqbal Shaikh, a former cop and MCA member, who put him on to coach Vidya Paradkar.
"My job was to make his basics stronger. Make him play with a straight bat and in the V (mid-on and mid-off areas). The biggest mistake many coaches make is when they train the batsman put his foot in line with the ball. The legendary Gary Sobers has said this that the bat should come down in ball's line and not the foot," Paradkar, who trained Haseeb for around three months, told said.
Haseeb would bat at Cross Maidan for three to four hours in a day broken into morning and evening sessions. He also played a few friendly games against quality opponents where he remained unbeaten most of the times, which left Paradkar highly impressed. "He wouldn't throw his wicket away which I liked the most. I wrote a message for him then that if he continued working on his game, he would soon play for England," said a beaming Paradkar. "I was delighted when I read that he was picked for the Bangladesh tour," he said with his voice full of pride.
The impact was almost immediate. At 14, Hameed made his first team debut in Bolton League side Farnworth Social Circle. He was soon drafted by Lancashire's Academy and Scholarship programme in 2012 where he was groomed by former England spinner Ashley Giles before awarding a professional contract in 2015.
In an interview to Manchester Evening News, Giles was spellbound with Haseeb's maturity. "At 19-years-old, he has a huge amount of maturity, he knows his game and loves his batting. Even when he's not playing that well, he comes through and finds a way," Giles was quoted as saying.
Haseeb again made a one-month trip to Mumbai last year before flying to Sri Lanka to join the England U-19 team for a tri-series. "This time the main purpose was to learn how to play spin bowling. He was a much improved player. It was a treat to watch him. He used the crease brilliantly. He had also developed two to three different shots for each ball and executed them brilliantly in the nets. I was amazed," said Paradkar.
Hameed had difficult time in Sri Lanka, but a conversation with the legendary Rahul Dravid, who is India U-19 coach, enriched his experience.
Although Cook partnered Ben Duckett in the two-Test series against Bangladesh, Hameed would fancy his chances for being well-versed with the conditions in the subcontinent.
The joy of debuting for England with your family in attendance at Rajkot, the venue for the first Test, would be like a cherry on the cake for Hameed.
Close