From 'brain fade' to ball-tampering: Five incidents that tarnished Australia captain Steve Smith
Agence France-Presse, Melbourne |
Agence France-Presse
Mar 25, 2018 06:43 PM IST
Here are five incidents where Steve Smith made headlines for reasons other than his batting since taking over the Australian captaincy in 2015.
Steve Smith was fighting to save his job and reputation on Sunday after admitting he was the chief plotter in a ball-tampering scandal. (Cape Town Test SCORES)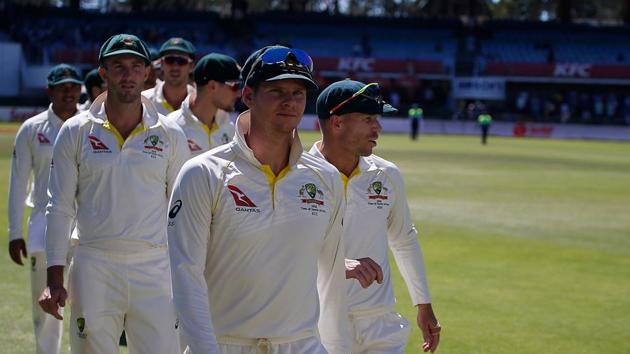 It is not the first time that the Australia cricket captain has been involved in controversy. Here are five incidents where Smith made headlines for reasons other than his batting since taking over the captaincy in 2015.
(Read | Steve Smith steps down as Australia skipper for remainder of 3rd Test, Tim Paine to lead)
DRS 'brain fade'
Steve Smith set off a storm of controversy in the second Test of the four-match series in India a year ago when he looked to his dressing room for help while deciding whether to call for a review into his lbw dismissal in Bangalore -- describing the moment a "brain fade".
(Read | 'Brain fade' Steve Smith: Prolific but flawed Australia captain)
Indian captain Virat Kohli accused the visitors of routinely abusing the decision review system, stopping just short of calling Smith a cheat.
Bully retort
England bowler James Anderson claimed the Australians were bullies who overstepped the line in the recent Ashes series and Smith returned fire, calling the England paceman one of the biggest sledgers in cricket, as insults flew ahead of the Adelaide Test.
(Read | Australia jeered by South African crowd on Day 4 after ball-tampering row)
The rancour spilt onto the pitch as umpire Aleem Dar had to separate Smith from Anderson in ugly scenes when the Aussie skipper was batting.
Umpire rant
Smith was fined 30 percent of his match fee for dissent after an obscenity-sprinkled rant against the umpires after a decision review went against the Aussies during the second Test against New Zealand in Christchurch in February, 2016.
(Read | Relations with Australia unaffected by scandal, says South Africa's team manager)
Smith said: "I'll cop that on the chin and I need to be better as a leader. For me it's about trying to learn from my mistakes and improve."
Rabada appeal questioned
Smith raised eyebrows when he appeared to question the ICC appeal process after a ban on South African bowler Kagiso Rabada for bumping the Australian captain was lifted last week.
(Read | South Africa look to ICC for strong action against Australia)
"They've deemed the contact not to be deliberate and set the line in the sand of what is appropriate and what's not," he said, adding it was "pretty interesting" that he had no input at the six-hour hearing. "The other person involved (is) not getting asked about it," he complained.
Ball-tamper shame
Smith faced calls to quit after confessing he was the chief plotter in Saturday's ball-tampering scandal which plunged the game into crisis. Teammate Cameron Bancroft was caught using yellow sticky tape laden with dirt to alter the condition of the ball.
"I still think I'm the right person for the job," he told reporters but admitted: "We spoke about it at lunch. I'm not proud of what happened. Obviously it was a big mistake. I've made it clear it is regrettable and we move on from this and hopefully will learn something from this."