South Africa look to ICC for strong action against Australia
South Africa coach Ottis Gibson said he expected the International Cricket Council to take decisive action against Australia over the ball-tampering incident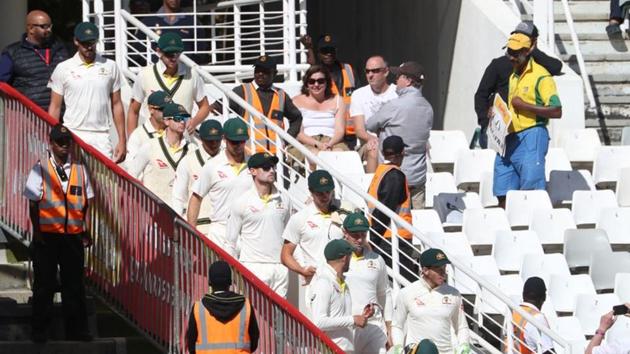 Published on Mar 25, 2018 03:27 PM IST
Reuters, Cape Town | By Reuters
The International Cricket Council's response to the Australian ball tampering incident in the third test at Newlands is firmly under the spotlight with strong punishment expected for the culprits, South Africa coach Ottis Gibson said on Sunday.
"I'm shocked at what's gone on. I've never seen anything as blatant as that," he told SuperSport television.
"The statement from them said it was the 'leadership group' and therefore it was quite a few people involved so we'll see how the ICC deals with the situation."
Gibson said he expected cricket's governing body to take decisive action following the latest incident of a spiteful series that has witnessed plenty of controversial behaviour between players from both teams.
"From the beginning of the series with all of the stuff that has gone on, I've kept saying we need strong officials in a series like this with two tough teams going after each other," he added.
"Hopefully, the match officials will take strong action in this situation."
Australia captain Steve Smith admitted on Saturday his side deliberately tried to tamper with the condition of the ball in an orchestrated attempt to gain an advantage of a test that was slipping away from them.
He and senior players conspired to change the condition of the ball using sticky tape and grit from the pitch with Australia's opening batsman Cameron Bancroft caught on camera using the tape.
The ICC charged Bancroft, the most junior member in the side at 25, of trying to change the condition of the ball. The governing body could dish out a one-match ban and a 100 percent match fee fine to the batsman.
On Sunday, Smith and vice captain David Warner stood down from their roles for the remainder of the third test with Tim Paine taking over as a stand-in skipper.
Former South Africa captain Kepler Wessels said the ICC need to be consistent in their punishment and brought up the case of West Indies wicketkeeper Ridley Jacobs, banned for three matches by the ICC for "cheating" in 2001 when he stumped an Indian batsmen without a ball in his glove as he broke the wicket.
"If Jacobs got three games for that offence then I wonder what is going to happen to these Australians," Wessels asked on Sunday.
Former South Africa skipper Graeme Smith, commentating on television, said he was aghast that the ball had not been changed immediately when the tampering pictures were shown on television, adding that the umpires had been remiss.
Close Story