India U-19 star Harsh Tyagi wants to break into Test team
Speaking to Hindustan Times, Tyagi said that while it felt good to have put in a match-winning performance on the night of the final, it was a complete team effort that saw the U-19 team win the Asia Cup.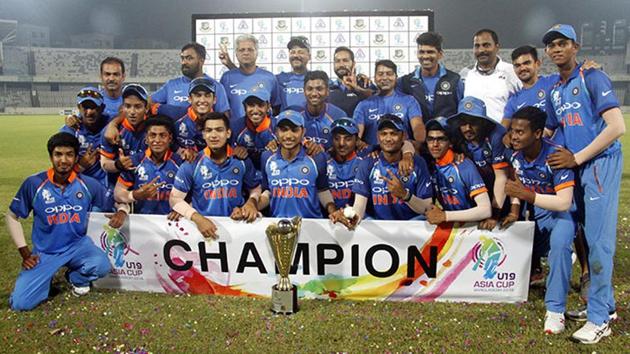 Updated on Oct 09, 2018 08:47 AM IST
Hindustan Times, New Delhi |
Manish K Pathak
The India Under-19 team put in a comprehensive performance to demolish Sri Lanka and clinch the Asia Cup. While the batsmen applied themselves on a difficult wicket to score 304/3, it was Harsh Tyagi's splendid bowling figures of 6/38 that not only helped India register a 144-run win, but also earned the youngster the Man of the Match award.
Speaking to Hindustan Times, Tyagi said that while it felt good to have put in a match-winning performance on the night of the final, it was a complete team effort that saw the team lift the trophy.
"This is a great feeling for us, we have stayed together for three months now and to win this tournament is great. The team talk was always very positive. We have been together for three months now and we had the national camp before this series. We had the Sri Lanka tour, and a quadrangular tournament. Everything led up brilliantly to the Asia Cup and the experiences helped us a lot," Tyagi said.
"There was no such special preparation (for this tournament), as I said, there were three series which we played before the Asia Cup, so it was a confidence booster."
In the absence of Rahul Dravid, WV Raman took charge of the team as the coach, and Tyagi believes that his motivational speeches were a big help. "WV Raman sir was always very encouraging and he kept giving motivational speeches before the matches and this helped us perform to the best of our abilities," he smiled.
The Indians were convincing in all the matches, but the semi-final clash against Bangladesh was a real humdinger. For the young team, dealing with the partisan crowd was a new experience and Harsh believes it was a great learning curve.
"Before the match, our team was quite confident. But then we saw the crowd and the support for Bangladesh and we got nervous. We scored 172 runs, the wicket was helpful for the spinners. We were confident that our spinners will get the job done, it got tight, but we won the match," the young spinner said.
Speaking about his own career and the path it took, Tyagi recalls that the turning point was 2013 when he decided to take cricket as a profession and put all his focus on improving his game. "I was around 12, started playing cricket around 2011. Before that, I was not very serious about it. For me, the turning point was 2013 when I wanted to take it seriously as a profession. And then in 2016, when I played in the Cooch Behar Under-19 Trophy, I took 45 wickets in 7 matches and then picked up 49 wickets in 7 matches again in 2017. It was a turning point for me as a cricketer," he said.
Speaking about the influence of his initial coaches, Tyagi says that for him the lessons imparted in school about the game will always be very special. "I started playing cricket at the Billabong High International School. My initial coach was Phulchand Sharma. He taught me not only about cricket, but about life in general and he really helped me with a lot of technical stuff. And, then few months down the line, Rajan Sachdeva was my coach who supported me with my bowling. So, yes, I have to thank these people for trusting me and supporting me."
Left-arm spinning all-rounders have mushroomed all over Indian cricket and there is a lot of competition for spots at all levels. However, the young man has always looked up to Daniel Vettori and derives inspiration from the former Kiwi captain.
"When I took cricket seriously, I watched a lot of videos of Daniel Vettori. He took so many wickets that too in New Zealand and Australia, he is my role model. As per my observation, my main strength is consistency. I keep bowling at one spot and want to hit the right areas.
"In the previous matches too, I tried to bowl in one spot and the results were fantastic. As of now, I am a bowler who can bat, because bowling is my first priority and batting comes second. But yes, I love to hit sixes and I do concentrate on hitting sixes, and since I come lower down the order, so this ability helps the team," he said.
The young man has already played Vijay Hazare for Railways and said that the experience he gained in the three games held him great shape in the Asia Cup. "Ya, this experience really helped me in Asia Cup. I played three matches in Vijay Hazare. We (Railways) played against Mumbai, and that batting line-up scored around 400 runs and I bowled well against them, and although, I did not get any wickets, I really enjoyed bowling against the likes of Shreyas Iyer, Ajinkya Rahane, and Prithvi Shaw. This match was a huge confidence booster for me and came at just the perfect time before the Asia Cup," he revealed.
Commenting on how he sees his career panning out, Tyagi said: "I am really excited to play the Ranji Trophy. It has to be the biggest Test for me. If I perform well there, I will get selected to play for India 'A'. For me the ultimate aim is to get selected for the Indian Test team," he signed off.
Close Story
Personalise your news feed. Follow trending topics