Acting on inputs, two persons along with one pickup vehicle and a two-wheeler were intercepted by the Narcotics body on the Agra-Mumbai highway, after which 60 boxes containing 864 Kilos of cough syrup bottles were recovered

Written by Ishika Yadav | Edited by Swati Bhasin
Aviation regulator Directorate General of Civil Aviation is conducting an investigation into this incident.

The woman, however, died while giving birth due to excessive blood loss, even before the trial could begin.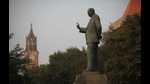 Maharashtra Covid-19 update: A total of 175 patients were discharged during the day, raising the number of recoveries in the state to 77,31,467 so far, the department said in a statement, adding that Maharashtra is now left with 1,518 active cases.

According to an official from the BDDS, three firecracker tubes were tied together with some wire attached to them. "