Mumbai ODI highlights: India suffer heaviest defeat against Australia
Updated on Jan 14, 2020 09:43 PM IST
As it happened: Skipper Aaron Finch and his opening partner David Warner defined total domination as Australia crushed India by 10 wickets in the first ODI at Wankhede Stadium in Mumbai. This is India's worst-ever defeat to Australia, since it is the first time Aussies have won an ODI without losing a wicket against them. Overall, it is only the fifth time in history that India have suffered a 10-wicket loss. The last time India lost an ODI by 10 wickets was in Kolkata against South Africa in 2005.
Follow live updates of India vs Australia 1st ODI at Mumbai: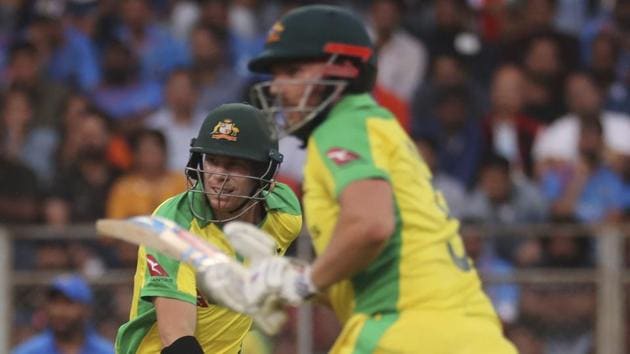 20:35 hrs IST
Match report
This is the 2nd highest total which has been chased down by any team without losing a wicket. Hashim Amla and Quinton de Kock's chase of 279 against Bangladesh in 2017 remains the highest in this list. Read full report here
20:28 hrs IST
India's 10-wicket losses in ODIs
vs New Zealand (Melbourne, 1981), vs West Indies (Bridgetown, 1997) vs South Africa (Sharjah, 2000), vs South Africa (Kolkata, 2005), vs Australia (Mumbai, 2020)
20:23 hrs IST
Australia win
Australia have registered an emphatic victory as they thrash India by 10 wickets. Both Finch and Warner slammed respective tons as Indian bowlers were blown away at the Wankhede. This is India's worst ever defeat against Australia as they had never lost by 10 wickets against them before. Warner remained unbeaten on 128 while Aaron Finch scored 110*. A massive drubbing this for India as Australia go 1-0 up.
20:18 hrs IST
Massive feat for Aussie duo
This partnership between David Warner and Aaron Finch is now the highest stand against India for any wicket. Earlier, the record was held by Steve Smith and George Bailey, who put together 242 runs against India in Perth in 2016.
20:13 hrs IST
Finch completes ton
Aaron Finch hits a boundary off Ravindra Jadeja as he sweeps the ball and it touches the glouves and goes for a four towards fine leg. With that, he brings up his century as India need just 20 runs to win the match now.
20:08 IST
Four and four
David Warner continues the onslaught after bringing up his century as he hits back to back boundaries off Jasprit Bumrah. Yes, Jasprit Bumrah!! Australia now need just 30 runs to win the match and go 1-0 up in the series.
20:02 hrs IST
Finch moves into 90s
Aaron Finch hits Kuldeep Yadav for a huge six off Kuldeep Yadav towards long-off and this is his second six of the innings. With that Finch moves into 90s and is on course of a well deserved ton.
19:57 hrs IST
Stat attack
18th ODI century for Warner — joint 2nd most for an Australian along with Mark Waugh and behind Ricky Ponting (29). 3rd ODI century for Warner against India and 2nd in India.
19:53 hr IST
Warner on course of ton
David Warner thumps Kuldeep Yadav for a boundary towards covers and he is now within touching distance of going over the three-figure mark. Despite a slow start, he will score a century before Finch who is currently in his 80s.
19:48 hrs IST
DRS saves Warner again
Ravindra Jadeja trapped David Warner in front of the wicket and the umpire raised his finger. Warner went for the DRS straightaway and replays showed there was a thin inside edge before the ball hit the pads. The decision is overturned and Warner survives on 90.
19:42 hrs IST
Search for wicket continues
Aaron Finch and David Warner have kept Indian bowlers at bay as they continue to extend their partnership closer to 200. The two batsmen are dealing in singles and doubles now with an occasional boundary.
19:37 hrs IST
Stat attack
1st opening pair to have a stand of 150+ runs against India in India while chasing since 2011. o The last opening to do so was Alastair Cook and Craig Kieswetter (129 at Kolkata in 2011). They are the also the only 4th opening pair to have a 150+ runs stand against India in India while chasing.
19:31 hrs IST
Expensive over from Shami
Mohammed Shami once again misses his line and length and is taken for runs by Aaron Finch. The first boundary was cut by Finch towards point while the second one was an outside edge which flew away for a boundary. India's search for a wicket continues.
19:25 hrs IST
150 up for Australia
In the last few overs, Australian batsmen haven't been able to score the way they started the innings but they are still moving towards the target at a good pace. 150 up for Australia in then 23rd over. Warner celebrates Australia going past 150 with a huge six off Kuldeep Yadav.
19:18 hrs IST
Huge LBW shout
Skipper Virat Kohli couldn't believe when umpire said the ball was going over the wicket after Kuldeep Yadav trapped Aaron Finch in front of the wicket. India had already wasted their review so they couldn't do anything about it.
19:12 hrs IST
India waste their review
Ravindra Jadeja insisted on taking the DRS after he trapped Aaron Finch in front of the wicket and the umpire said not out. Replays showed that the ball took an inside edge and then hit the pads. Virat Kohli is not looking a happy customer. India's search for wicket continues.
19:08 hrs IST
Not stopping boundaries
Australia are somehow managing a boundary every over at the moment as the Indian heads are beginning to drop now. Finch hits his 9th boundary off Kuldeep as the latter concedes 8 runs in the over. India in dire straits and that doesn't happen always.
19:03 hrs IST
Tight over from Kuldeep
Spinner Kuldeep Yadav keeps things tight and gives away just three runs in the over. India need wickets and they need a couple soon if they stand any chance of staying alive in the match.
18:58 hrs IST
Fifty for Finch
Aaron Finch finally completes his half-century after being stranded at 49 for quite some balls. 25th ODI fifty for Finch and he has really set the tone for the visitors in this chase. Australia's current rate is 7.19 while the required rate is 4.15.
18:53 hrs: IST
Fifty for Warner
David Warner brings up his half-century and this is his 21st in ODIs. He has hit six boundaries and two sixes so far. Fourth consecutive fifty for Warner against India. Third consecutive fifty for Warner in India in ODIs.
18:50 hrs IST
Century stand
Aaron Finch and David Warner have put together 100 runs. 1st century stand for opening wicket by Australia after 3 intervening innings.1st century stand for opening wicket by an Australian pair against India after 3 intervening innings. Only 2nd opening pair to have a century stand at Wankhede Stadium. Both are Australian opening pairs. Mark Taylor and Mark Waugh had a stand of 103 runs at this venue in 1996.
18:45 hrs IST
Second six for Warner
Ravindra Jadeja tossed the ball up and David Warner bludgeoned a flat six towards cow corner. Seven runs from that over from Jadeja as Australia continue to score freely at this good batting wicket.
18:40 hrs IST
Finch survives twice in one over
Kuldeep Yadav bowls an excellent first over as he almost got the wicket of Aaron Finch twice. The Aussie skipper top edged a delivery but the ball landed safely in between the bowler and cover fielder. Then, the top edge landed behind the keeper. Just not India's day!
18:35 hrs IST
Stat attack
1st fifty stand for opening wicket by Australia after 3 intervening innings. Their last fifty plus opening stand came at Lord's for 123 runs in 2019. 3rd consecutive fifty plus partnership for opening wicket by Australia against India in ODIs.
18:30 hrs IST
Poor from Shami
Mohammed Shami is struggling continues to struggle with his line and he has been punished by the Aussie openers. Finch hits him for two boundaries on the off side as the India pacer concedes 10 runs in the over. India need to break this partnership soon if they want to stay alive in the game.
18:25 hrs IST
Fifty partnership
David Warner hits Shadul Thakur on the up and gets a boundary towards extra cover. With that, the 50-run partnership comes up between Warner and Finch. Then, Warner mistimes a Thakur delivery but still gets a boundary towards square leg. Thakur drops the ball then but ended up being hit for a six by Warner wide of long-on. 15 runs came from that over from Thakur.
18:20 hrs IST
No stopping Finch
Aaron Finch hits his sixth four of the innings as he carves the off side field once again of the bowling of Jasprit Bumrah, who concedes 9 runs in the over. Australia are scoring runs at a brisk pace and that's not a good sign for India.
18:16 hrs IST
KL Rahul: The wicket-keeper
For all those wondering why KL Rahul is keeping wickets in place of Rishabh Pant, here is the answer. This decision was taken because Pant was struck on helmet during his dismissal, and he was diagnosed with concussion and has been kept under observation for tests, according to BCCI. 
BCCI update: Rishabh Pant has got concussion after being hit on the helmet while batting. Pant is under observation. #IndvAus @HTSportsNews

— Sanjjeev (@Sanjjeev) January 14, 2020
18:11 hrs IST
Warner survives
Shardul Thakur thought he picked his first wicket of the innings when David Warner went for the hook shot but ended seemingly edged the ball into the hands of keeper Rahul. Finch asked Warner to go for the DRS and sniko showed there was no edge.
18:06 hrs IST
Another expensive over
There is no stopping boundaries at the moment as Finch hits his fifth four of the innings. Wide delivery from Shami and Finch cut the ball hard past point. 8 runs came from that over from Shami. Shardul Thakur comes into the attack now.
18:01 hrs IST
Four and four
After hitting Shami for two fours, Finch now hits two boundaries off Bumrah, who concedes 11 in the over. The first four went towards the covers and the next one past the point fielder. Australia have started really well and Warner hasn't event started to move his bat yet.
17:56 hrs IST
Second four for Finch
Aaron Finch as set the alarm bells ringing in the opposition camp as he hits his second boundary of the innings. Mohammed Shami pitched the ball a bit wide and Finch leaned into the drive and the well went through the covers. Australia are off to a good start.
17:50 hrs IST
Bumrah into the attack
Shami gives away 6 runs in his first over. Jasprit Bumrah is into the attack in the 2nd over. He gives away just three runs in the over as he stuck with his line and length slightly outside the off stump.
17:45 hrs IST
Chase begins
Aaron Finch and David Warner are out to begin Australia's chase. Mohammed Shami starts the attack for India. CHASE IS ON!
17:42 hrs IST
BIG NEWS
Our reporter Sanjjeev Samyal has reported that KL Rahul will be keeping stumps and not Rishabh Pant. Pant was hit on head while batting, and hence this call has been made. Rahul has recently kept stumps in T20 cricket.
17:35 hrs IST
Irfan decodes Starc's action
Former India pacer Irfan Pathan knows a thing or two about getting the ball to swing in the air. During the first ODI against Australia, Irfan took to Twitter where he analysed the bowling action of Mitchell Starc and said that since the left-armer tweaked his loading up, he has not been able to get the ball to swing. Irfan wrote: 'There is a change in the LOADING in his bowling action for some reason and I think that's the reason #starc isn't getting the swing, on the contrary the other end #cummins able to move the ball with repetitive action..'
17:25 hrs IST
Zampa record
Virat Kohli, who came to bat at number four, was dismissed by Zampa as the India skipper became the fourth Indian batsman to head back into the hut after Australia won the toss and elected to bowl first. This is the fourth time that Zampa has dismissed Kohli in ODIs, which is joint most for a spinner against the India captain. The other two spinners to dismiss Kohli four times in 50-over format are Graeme Swann and Suraj Randiv.
17:17 hrs IST
Shami departs
Shortish ball by Richardson, Shami tried to hook it away, gets a top edge and Carey goes after it to pouch it with his neck. India have been bowled out for 255.
17:14 hrs IST
Kuldeep is run out
He played well, but has been found short of his crease by a direct hit from Steve Smith. Good resilience shown.
17:09 hrs IST
Good fight shown
Kuldeep laces a cover drive, the crowd find their voice. India inch closer to 250. Starc is struggling to find his target and India will be happy with these bonus runs on offer.
17:03 hrs IST
Kuldeep, Shami out there
Both the batsmen are trying to bat out the 50 overs. Starc is aiming for the stumps, but cannot get his radar spot on. India are hanging on, just by a thread.
16:56 hrs IST
Starc strikes
Full ball angled in, aimed for the stumps. Thakur backs away, tries to dig it out, but the ball moves away just a touch, misses the ball and the stumps have been smashed. India lose their 8th wicket. Thakur's innings was short and rather enterprising!
16:53 hrs IST
Shami survives
Thakur is looking very good and now Shami gets a reprieve. The ball was full and angled in, it hit Shami on the toe and the umpire gave him out. It was referred and the DRS shows the ball sliding down the leg stump. Crowd erupts, India still breathe.
16:46 hrs IST
Cummins strike
The masters paceman strikes, belts the pitch with a fast, nasty bumper. Pant is beaten for pace, he goes for the hook, top edges it onto his helmet and the ball lobs to backward point.
16:38 hrs IST
Jadeja departs
Well, just as Pant was beginning to open his shoulders, India have been handed a big jolt by Kane Richardson. A slowish ball on a length, it bounces a touch and Jadeja edges it through to Carey. India are 6 down!
16:32 hrs IST
Pant getting restless
It has been a quiet innings by the left-hander and now he is getting itchy at the crease. Two big shots attempted in that over, both unsuccessful. He has to keep his wits about him, Jadeja is doing a good job at the other end.
16:28 hrs IST
Jadeja is looking very good
The left-hander has taken massive strides as far as his batting is concerned and is once again giving a great account of his potential. This has been a good, calculated innings so far.
16:25 hrs IST
Jadeja survives
That was close, but Jadeja sprint back and drags his bat in. The throw from the deep clobbers the stumps but India have nothing to be worried. These two have to bat right till the end if India are to get anywhere close to a competitive score.
16:20 hrs IST
Rishabh Pant struggling
Rishabh Pant has been in a spot of bother ever since coming on to bowl. He has found the going tough against quality pace bowling of the Australians. But the important thing is to stay in the middle with Jadeja.
16:12 hrs IST
Jadeja gets going
Ravindra Jadeja is fighting back with the bat for India. He first gets a six off Ashton Agar and then gets a boundary off Micthell Starc. Some much needed momentum for the Indian innings. The hosts closing in on the 200-run mark.
16:08 hrs IST
India struggling
Mitchell Starc almost got the better of Rishabh Pant, only an edge saving the Indian wicket-keeper. At 169/5 after 35 overs, India's realistic target is to post something in excess of 250 now to make a match out of it. For that Jadeja and Pant need to stick around till the end.
15:59 hrs IST
That's the end of Shreyas Iyer
Mitchell Starc picks up his first wicket of the match. Angles that one across and Shreyas Iyer knicks it to the wicket-keeper. This is humiliating for India. The Aussies are making a mockery of India's high flying batting unit.Five wickets down and Ravindra Jadeja is the next man in.
15:50 hrs IST
Zampa sends back Virat Kohli; huge dismissal
Adam Zampa has picked up the big scalp. Virat Kohli attacks him and hits a six to bring the crowd on its feet. Zampa takes a good catch off his bowling to send Kohli back. India in deep trouble as the skipper departs for 16 off 14.
15:42 hrs IST
Kohli at Number 4 - Indian fans won't like this stat
Past numbers do not matter for a player like Virat Kohli as his consistency is so high. But his numbers at the No 4 spot is something will worry Indian cricket fans. Kohli at No. 4 in last six innings 9, 4, 3* ,11,12, 7.
15:36 hrs IST
Cummins strikes now, Dhawan departs
Pat Cummins has made it two quick wickets for Australia. Shikhar Dhawan gets a leading edge and it has been caught by Ashton Agar who ran quite a bit from Mid off. The southpaw departs for 74. India 140/3 after 28.5 and in a bit of trouble now.
15:30 hrs IST
Agar strikes; KL Rahul departs
Ashron Agar is bowling an amazing spell here and he has picked up a wicket too. Agar flights that up and Rahul hit it straight to Steve Smith, who was positioned at short extra cover. Good bit of planning there by teh Aussies to send Rahul back. Virat Kohli will be in now.
15:24 hrs IST
Stat Attack: Century stand with a set of numbers
Hundred partnership for 2nd wicket between Dhawan and Rahul
· 1st century stand between Dhawan and Rahul in ODIs.
· 1st century stand for 2nd wicket by India after 8 intervening innings.
India's last century stand for 2nd wicket came against England at Birmingham in 2019.
· 1st century stand for 2nd wicket by India at home after 12 intervening innings.
The last such instance came in 2018 vs WI with the 2nd wicket stand of 246 runs by Kohli and Rohit.
· 1st century stand for 2nd wicket by India at Wankhede Stadium and 4th by any team's 2nd wicket pair at the venue.
· 1st century stand for 2nd wicket by India against Australia after 12 intervening innings.
The last such instance came in 2017 with the 2nd wicket stand of 102 runs by Kohli and Rahane at Kolkata.
15:18 hrs IST
Dhawan breaks the shackles with a six
It was a calculated risk taken by Shikhar Dhawan, who danced down the track and hit Agar for a six over deep mid-off. The fielder was up inside the circle and Dhawan has decided to pump in some momentum into this innings.
15:12 hrs IST
Stupendous limited overs bowling
Ashton Agar is bowling a great line and length here. He is forcing the batsmen to take risks. Another great over by him. Just not allowing Dhawan and KL Rahul to free their arms. Zampa is following it up brilliantly from the other end.
15:07 hrs IST
Zampa equal to the task
Leg spinner Adam Zampa shows some class there. Dhawan is looking to up the ante and steped out of the crease but Zampa bowled it close to his body and teh southpaw had to defend iut. He gives away just 4 runs in that over.
15:04 hrs IST
Stat Attack - Dhawan's 5th ODI 50 vs Aus
Fifty for Shikhar Dhawan
· 28th ODI fifty for Dhawan in ODIs.
· 5th ODI fifty for Dhawan against Australia in ODIs
· Consecutive fifty plus scores against Australia for Dhawan in ODIs.
· 2nd fifty at Wankhede Stadium from 3 matches.
15:00 hrs IST
Fifty for Dhawan
Shikhar Dhawan takes a single off Adam Zampa and with that he has brought up his 28th half-century. He has hit nine boundaries so far and has looked every so good. He celebrates his half-century by hitting a Zampa delivery towards mid wicket for a boundary. India have also crossed the 100-run mark now.
14:55 hrs IST
Good over from Zampa
Adam Zampa stops the flow of runs as he concedes just four runs off his third over. Shikhar Dhawan has looked solid after early jitters and he is moving closer towards his well-deserved half-century. KL Rahul has aided him well from the other end.
14:50 hrs IST
Ashton Agar into the attack
Time for some left arm orthodox spin. Ashton Agar has been introduced into the attack and Shikhar Dhawan helps one behind the wicket for a boundary. Loose delivery from Agar. A double follows and Dhawan has entered the 40s. Agar gives 6 runs off his first over.
14:46 hrs IST
Rahul in sublime touch
KL Rahul is making batting look very beautiful here. Richardson strayed down the leg side and a wristy flick from the stylish Bengaluru batsman sends it past the boundary rope. India end the 16th over at 80/1.
14: 45 hrs IST
Reminder: Dhawan's last ODI knock against Aussies
Shikhar Dhawan has made a steady start to his innings and is inching towards a half-century. His last ODI innings against Australia was in the ICC World Cup and it was a match winning century. He suffered a broken thumb in that match.
14:35 hrs IST
Fifty partnership
Kane Richardson bowls a length delivery and KL Rahul hits the ball past the point fielder for his second boundary of the innings. With that, Rahul and Dhawan have stitched together fifty partnership. India moving along nicely at the moment.
14:30 hrs IST
India cross fifty
Shikhar Dhawan hits back to back boundaries off Pat Cummins and with that, India have crossed the 50-run mark in 12th over. The first boundary Dhawan hit past the third fielder and the second he cut past the point fielder. Dhawan has now settled into the middle and alarm bells are ringing for the visitors. Dhawan also completes 1000 ODI runs against Australia.
14:25 hrs IST
Rahul's defensive approach
Since that boundary he hit off Mitchll Starc in the first few balls he faced, KL Rahul has gone quiet as Shikhar Dhawan continues to play the role of aggressor. He has now faced 15 deliveries and scored just 9 runs. Rahul and Dhawan are complementing each other well.
14:20 hrs IST
10 overs have been bowled
Eventful first 10 overs come to an end as India reach 45/1. Rohit Sharma departed early but since then, Shikhar Dhawan has hit a few boundaries to steady the Indian ship. KL Rahul has been content with just rotating the strike.
14:15 hrs IST
Richardson under pump now
Shikhar Dhawan is starting to take the attack to every Australia bowler now as Kane Richardson now feels the might of the southpaw. Couple of short deliveries from the pacer and Dhawan slams one boundary towards mid wicket and the other towards short fine leg.
14:10 hrs IST
Dhawan breaks the shackles
Shikhar Dhawan seems to have had enough as he hits back to back boundaries off Mitchell Starc. The first one he came down the ground and hit it past the bowler while the second one he simply hits past the fielder at square leg. 9 runs came from the over from Starc.
14:05 hrs IST
No respite for Dhawan
Shikhar Dhawan hasn't looked like himself so far in the innings as he continues to play dot balls. After this latest Kane Richardson over, he has now faced 20 balls and scored just 3 runs. India would now look to get a move on here.
14:00 hrs IST
Dhawan survives twice
Pat Cummins bowled a short delivery and Shikhar Dhawan played the upper cut but luckily for him, the ball landed just in from of Adam Zampa at third man. While on the penultimate ball of the over, Cummins trapped him in front of the wicket but the umpire said not out. Aaron Finch took the review but the ball had pitched outside the leg stump and the southpaw survived.
13:56 hrs IST
Rahul shows his class
Mitchell Starc bowls a fast yorker and KL Rahul simply flicked the ball off his feet for a boundary towards fine leg. After the dismissal of Rohit Sharma, India will want Dhawan and Rahul to put up a good partnership to steady the ship.
13:51 hrs IST
Starc removes Rohit early
That's a great exhibition of adapting to the conditions. Starc isn't getting any swing and he thus decides to bowl one up to the bat but with a cross seam. The ball sit up a bit on landing and Rohit's ambitious drive lands in the hand of the mid-off fielder. That's a big wicket for Australia.
13:48 hrs IST
Cummins bowls a maiden
It has been an extremely cautious start by Shikhar Dhawan. He has played out a maiden over from Pat Cummins. Dhawan has just returned to international cricket and it will take him some time to get into the groove. He played in the series against Sri Lanka and scored a quickfire half-century in the third T20 international.
13:45 hrs IST
Stat Attack
295: The average 1st innings score at this venue in the last 5 ODIs.
5/5: The team which won the toss in the last 5 matches have all chose to bat first at this venue.
1: more century partnership required for the duo Rohit Sharma/Shikhar Dhawan, and they will then have the most century partnerships by a pair against an opposition in ODIs.
13:40 hrs IST
What did Ravi Shastri tell Rohit Sharma?
Sunil Gavaskar has made a big revelation on commentary. He says Team India coach Ravi Shastri has spoken to Rohit Sharma about opening up his stance to be prepared for the incoming delivery from a left arm paceman. He says Shastri employed similar tactics to combat Wasim Akram's prodigious swing.
13:35 hrs IST
Cummins makes an impressive start
Pat Cummins has started well. Shikhar Dhawan played the second ball down to third man for a single. He then bowled a jaffa to Rohit who was beaten all ends up outside the off stump. Cummins gives away three from his first over and India are 11 for no loss after 2.
13:32 hrs IST
Run out chance and another boundary
A mix up in the middle of the pitch. Rohit pushes that and sets off but Dhawan sends him back. A direct hit was needed which didn't come. Starc pitches it up again on the next delivery, hoping to swing it but it doesn't. Rohit drives that through covbers for another boundary. A dot ball to finish the over and India are 8 for no loss after the first over.
13:25 hrs IST
Action begins and so does Rohit
Mitchell Starc runs in and bowls that one in the slot outside the off stump. Rohit Sharma drives it through the covers for a boundary. That was a real loosener from Starc. Half volley and Rohit's eyes lit up. He is off the mark with a boundary and so is India.
13:20 hrs IST
Rohit eyes two big milestones
India vice-captain Rohit Sharma is on the verge completing two milestones - he is runs required by Rohit Sharma to complete 9000 ODI runs. If he achieves this milestone in this series, he will be the third fastest to get there. Also, he requires one more century to become the player with fourth most centuries in 50-over format. He currently has 28 ODI centuries, which is joint fourth most along with former Sri Lanka opener Sanath Jayasuriya.
13:15 hrs IST
Playing XI - India and Australia
INDIA Playing XI - Rohit Sharma, Shikhar Dhawan, KL Rahul, Virat Kohli (C), Shreyas Iyer, Rishabh Pant (WK), Ravindra Jadeja, Shardul Thakur, Kuldeep Yadav, Mohammed Shami, Jasprit Bumrah.
AUSTRALIA Playing XI - David Warner, Aaron Finch (C), Marnus Labuschagne (DEBUT), Steven Smith, Ashton Turner, Alex Carey (WK), Ashton Agar, Pat Cummins, Mitchell Starc, Kane Richardson, Adam Zampa.
13:10 hrs IST
Battle between India's top order and Aussie quicks
In Pat Cummins, Mitchell Starc and Kane Richardson Australia have a power packed pace battery and they will be tasked with uprooting some of the biggest names in international cricket in the 50-over format. Rohit Sharma returns refreshed after a break and Shikhar Dhawan is all set to make up for lost time due to injury. KL Rahul is in sublime touch while Virat Kohli is the conqueror-in-chief of bowling attacks. You get them early, you get India.
13:05 hrs IST
Team Composition - Will Virat bat at 4?
Virat Kohli mentioned the names of five players who are not playing today's match, which includes Shivam Dube, Yuzvendra Chahal, Navdeep Saini, Manish Pandey and Kedar Jadhav. It means KL Rahul is playing this match and it will be interesting to see who comes out to bat at teh number 3 position.
13:00 hrs IST
Finch puts India in to bat
Aaron Finch has won toss and decided to field first. Virat Kohli says he would have bowled first as well keeping the dew factor in mind. But he says he and the team is looking to do things out of their comfort zone and this is another such opportunity.
12:50 hrs IST
How important will the toss be?
Considerations for dew could make the toss important but Wankhede has in general produced batting beauties and first use of the wicket will not be a bad idea either. If a captain chooses to bat first, his batters will have to back him up and produce a score well in excess of 300 to set a stiff target. The average first innings score in the last 10 matches has been 320. So there you have it. Bat big if you have to bat first
12:42 hrs IST
High-scoring battles have been the trend
Since 2013, India and Australia have played each other 28 times. Across these matches, there have been 25 instances when scores have screamed past 300 (14 by Australia and 11 by India).
Find out more about this rivalry.
12:33 hrs IST
How will India line up?
There are a few selection headaches for the management, but as Kohli says, it is a good headache to have. Here we take a look at India's predicted XI for the first ODI at the Wankhede Stadium.
12:12 hrs IST
Big series for Marnus
Marnus has had a stellar start to his Test career. He is third in the ICC Test Rankings for batsmen behind India captain Virat Kohli and Steve Smith.
"The thing I like about Marnus is his willingness to learn and how quickly he picks things up, and if he continues to do that, he's going to be a huge player for Australia for a long time," Steve Smith.
12:05 hrs IST
It's building up nicely
Action starts in a few hours 🇮🇳🇦🇺
Get ready for an exciting contest between two swashbuckling sides 📺📺 #TeamIndia #INDvAUS @Paytm pic.twitter.com/0lSTYD2w2I

— BCCI (@BCCI) January 14, 2020
12:00 hrs IST
Young players
While the usual suspects will hold the key, this series will also be about the young players trying to leave an impact.
Here are the three young players to watch out for.
11:49 hrs IST
Player battles
Here are the top three player battles that are likely to headline the first ODI between the two teams which will take place Tuesday at Wankhede Stadium in Mumbai:
Pat Cummins vs Virat Kohli will headline the match, but there are other interesting match-ups which will be followed as well.
11:42 hrs IST
The Mitchell Starc factor
"I don't think that not having played in India [recently] will be much of a factor for him, because he's played a lot over here," Virat Kohli said on Monday. "And anyone who has pace, once they find their length they can adjust anywhere, so pace is always going to be an advantage. But having said that we have played against these guys a lot."
Starc has to perform a lot better here. His numbers against the Indian top order, especially Rohit and Kohli are not too good.
11:38 hrs IST
India vs Australia
Two sides which have all the bases covered should make for compelling viewing and hence, this ODI series, in a T20 World Cup year gets all the relevance and context. Virat Kohli does not take Australia lightly, and when the captain speaks, his side follows him.
Close Story
Personalise your news feed. Follow trending topics