Rajasthan Royals' Liam Livingstone hit by bio-bubble fatigue, flies home
IPL 2021: The 2008 IPL champions have lost their third England player this season, after Ben Stokes and Jofra Archer were ruled out due to injury.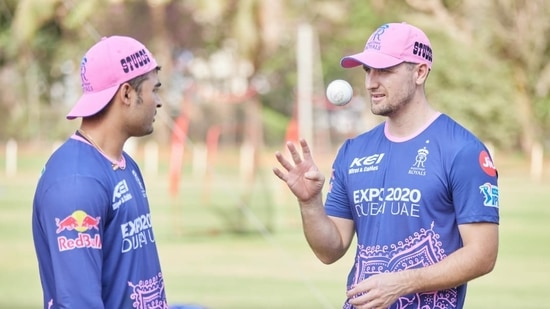 Updated on Apr 21, 2021 06:17 PM IST
The Indian Premier League (IPL) is less than two weeks old but has been hit by Covid-19 bio-bubble fatigue. England's Liam Livingstone has become the first player to pull out of the league which started on April 9. Rajasthan Royals' hard-hitting batsman, yet to play a match, flew back home late on Monday night.
The decision came hours after UK put India in a "red list" of countries due to rising Covid cases, with only restricted or no movement between the two nations from April 23. Whether it had an impact on Livingstone is not known.
"Liam Livingstone has flown back home late last night, due to bubble fatigue accumulated over the past year. We understand and respect his decision, and will continue supporting him in any way we can," RR said in a statement on Tuesday night.
Livingstone's departure leaves Royals without three overseas players—
Ben Stokes (broken thumb) and Jofra Archer (hand surgery) being the others. All three are from England. For RR, with one win in three matches, it is a fresh blow.
Bio-bubble fatigue has been the new challenge for many athletes across disciplines. Livingstone's case shows again how living within a limited space can adversely affect mental health. England fast bowler Mark Wood was the first to withdraw before the IPL 2021 auction in February. In mid-March, Australian wicketkeeper-batsman Joshua Philippe (RCB) pulled out. Hours before their flight to India, Australia's Mitchell Marsh (SRH) and Josh Hazlewood (CSK) said they were unavailable. Bio-bubble fatigue was the common cause.
England's world No. 1 T20I batsman Dawid Malan, who was with Livingstone in their national team's bio-bubble, said things can get tricky for players following current Covid-19 protocols.
"You are not able to get a release. You are not able to go to a coffee shop or a restaurant or see other people. You are seeing the same people all the time," Malan, who plays for Punjab Kings, said.
"The other thing about bio-secure bubble is because people are not doing anything for a long period of time, more stuff gets thrown in. You have more meetings. You do more catch-ups. It actually tires you out a lot more mentally—the fact that you are constantly having to do stuff. That's just not here (IPL) but in every bio-bubble we are in. There's always something because whoever it is, he feels we need to get together all the time. Being away from cricket and being able to keep the mid away from things probably helps you more.
"It is very tough. The fact that you are only allowed on four floors, always having to wear masks, when you have nothing to do you are pretty much settled in your room all the time—that does become quite tough. It's about trying to find ways to keep your mind busy and off while sitting around in a room," he said
"I try and get out to the pool as much as I can just to be able to get some fresh air; it's tougher than it sounds. We are very fortunate as cricketers to do our job at this time of pandemic. A lot of people lost their jobs and we are in a position to do what we love and we are paid for it."
Livingstone had been living in one bio-bubble or the other for long. The 27-year-old played in the 2020 Pakistan Super League in February, which got disrupted due to the pandemic. Then he was in England's training squad in May before being called up as reserve in the limited- overs squad against Ireland (July-August 2020), Pakistan (August-September 2020) and Australia (September 2020). He also travelled with England to South Africa in November-December (the visitors returned after concerns over bio-bubble breaches), and then played for Perth Scorchers in the Big Bash League till February. After that, Livingstone came to India for the limited-overs series and made his ODI debut on March 26 in Pune. In all those tours/tournaments he was confined to a bio-bubble environment.
John Gloster, Rajasthan Royals head physio, admitted mental health is getting due attention in the wake of Covid-19 restrictions.
"One really positive thing that has come out of COVID-19 is how mental health has been brought to the fore. Going into the 11th month of the bio-bubble, players now are a lot more open to discussing things. We are having to understand that there are different circumstances and scenarios that the players are all under and that can be very challenging," he told the team's website recently.
"What we've understood is that all athletes often don't like accepting that they're failing at something or that they have a weakness." To counter that, Gloster has a few rules for his team members. "At first, the idea of being isolated in your room can be a bit daunting but having experienced it a bit too much by now, we've all become very good at setting routines and making sure we stick to them," he told the RR website.
"Just because we are confined to four walls doesn't mean that things have to be that different. We've basically focused on a few areas that will effectively keep everyone in good shape and spirits, nutrition being a really important focus area…being able to exercise is the second area of focus…encourage everyone to read and study."
Topics
Close Story