Kuldeep Yadav says happy to use Shane Warne's tricks to trouble Australia
Mar 25, 2017 08:15 PM IST
Kuldeep Yadav, who became the first Chinaman bowler to represent the Indian cricket team in Tests, ended with figures of 4/68 on the first day of the Dharamsala Test against Australia cricket team and credited Australia cricket team legend Shane Warne's teachings for his haul.
Kuldeep Yadav, who bowled a magnificent spell on the first day of his Test career to help India restrict Australia, credited an interaction with spin legend Shane Warne for his success. (Dharamsala Test, Day 1 highlights)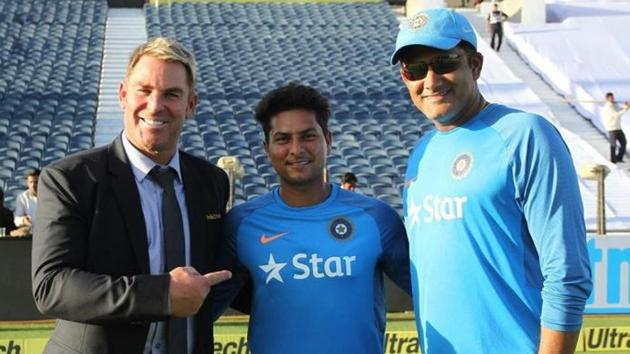 "Learning from Warne and then using those tricks to get the Australian batsmen out was a great thing. The wicket of (David) Warner was not a chinaman. It was a flipper which I learnt from Warne. I did exactly what he told me to do. I have followed him since childhood," Kuldeep said at the end of first day's play. (Scorecard)
During the first Test at Pune, Kuldeep Yadav had asked Anil Kumble to introduce him to his idol, Warne. The India coach obliged.
Kuldeep told bcci.tv after the meeting that he had picked the legend's brains. "When I walked towards him (Shane Warne), I couldn't believe that I was standing in front of him. He greeted me with a warm smile and it felt very heartening to see a legend embrace you in that manner. It was a great experience. I asked a lot of things about my bowling and the different ways to use my variations effectively. He felt very confident about my bowling and said he had been following my performances. Those words are like gold for me," he had said in the interview.
Read more | Kuldeep Yadav negates Steve Smith-David Warner show in Dharamsala
On Saturday, Kuldeep recalled that experience. "I couldn't believe I was speaking to my idol and sharing my thoughts on bowling."
Kuldeep made an impact in just his fourth over by removing David Warner to end his big partership with captain Steven Smith. After that, the chinaman bowler from Uttar Pradesh went from strength to strength, ending with a four-wicket haul.
The youngster then proceeded to dismiss Peter Handscomb with a legbreak for 8 before removing Glenn Maxwell with a googly, also for 8. He finished off by having Pat Cummins caught and bowled for 21.
Read more | How Virat Kohli won the loudest cheer for India in Dharamsala Test vs Australia
"The first wicket was very special. The next two wickets (Handscomb and Maxwell) were satisfying as I executed the dismissals in ways I had visualised it," Kuldeep said. Matthew Wade, who smashed his fourth fifty, conceded that initially the Australians were struggling to pick Kuldeep's variations.
Halting Smith
Throughout his spell, Kuldeep displayed tremendous control and guile. In addition to wickets, he ensured that Australia captain Steve Smith had to work hard for runs. Kuldeep bowled six overs at Smith and gave away only 19 runs, bowling a total of 11 dot balls, the most by any bowler.
Read more | Steve Smith continues to torment India, smashes 20th century in Dharamsala Test
"I bowled to Smith for the first time and I didn't have any difficulty as he wasn't playing any strokes against me. Maybe he didn't want to take any chance against me and looked only for singles. I was never nervous against Smith. I have been taught that a spinner will take wickets even if he gets hit," Kuldeep said.