Kuldeep Yadav's lethal spell and other key moments from Day 1 in Dharamsala
Mar 25, 2017 07:28 PM IST
The first day of the fourth Test between India and Australia at Dharamsala witnessed some magnificent moments, including Kuldeep Yadav's spell and Steve Smith's magnificent century. Here are some of the memorable moments from Day 1
Dharamsala became the 27th Test venue in India as it hosted the decider between India and Australia. There was drama before the start of the Test, at the start of the match and as the game progressed, there were moments of individual brilliance. (Day 1 blog | SCORECARD)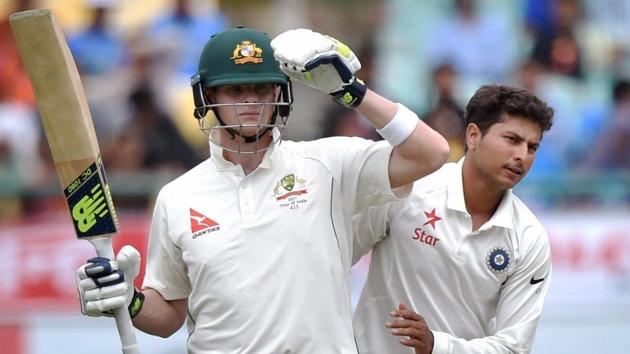 Here is a look at some of the memorable moments on the first day:
Virat Kohli ruled out due to injury
As the morning of the Test dawned, Indian fans were on tenterhooks regarding the injury status of Virat Kohli. However, with 30 minutes to go for the toss, their worst fears came true. Kohli had failed to recover from the shoulder injury and he was ruled out of the Test. This was the first time that Kohli has missed a Test in his career due to injury. Since the West Indies series in November 2011, he had played 54 consecutive Tests before the game in Dharamsala. Ajinkya Rahane became the 33rd Test captain for India as a result.
Drop in the first ball of the Test
If there was drama before the start, there was drama at the start. After Australia chose to bat, Bhuvneshwar Kumar opened the bowling and he was bowling to David Warner. The first ball was full and it swung away late, Warner chased after it and got an outside edge but Karun Nair at third slip dropped the catch. Warner went on to score his first fifty of the series.
Virat Kohli carries drinks and motivation
The mood was glum among the Indian fans after they realised that Kohli was ruled out. However, in the sixth over of the innings, there was cheer as Kohli came out during the drinks break and interacted with the Indian cricket team. During the lunch break, Kohli was out on the field and indulging in some short sprint races with Jayant Yadav. The sight of Kohli running out to be with the team, despite not playing, lifted the mood at the ground.
Kuldeep Yadav takes emotional first wicket
For 85 years since India started playing Test cricket, the team had never played a Chinaman bowler. On the first day, the 288th player to represent the country in Tests was a Chinaman in the form of Kuldeep Yadav. He picked up a wicket in just his 25th ball as he got rid of Warner. He jumped in joy and apparently shed tears. He went on to take three more wickets to finish with figures of 4/68.
Steve Smith, India's No.1 tormentor
India must be sick of the sight of Steve Smith scoring tons of runs against them. In 2014/15, he smashed four centuries and went past 700 runs in the series against India Down Under while in this series, he smashed 109 and 178* in Pune and Ranchi. In Dharamsala, he completed his third ton of the series and he became the first Australian captain to hit three tons against India in a single series.