How Virat Kohli won the loudest cheer for India in Dharamsala Test vs Australia
Mar 25, 2017 08:54 PM IST
Virat Kohli, who missed the fourth Test against Australia after failing to recover from a shoulder injury, still kept himself involved in the match by going out to talk to team members during drinks and participating in warm-up sessions.
Virat Kohli may be forced to sit out of the fourth and final Test in Dharamsala but you just can't keep him out of action. Kohli was ruled out after failing to recover from the shoulder injury sustained in Ranchi, dealing a huge blow to the team's chances and breaking the hearts of many Indian fans. (DAY 1 LIVE BLOG)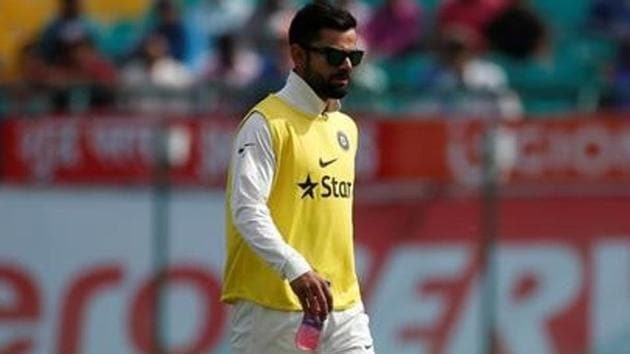 With Kohli not available, Ajinkya Rahane led the team as Australia won the toss and chose to bowl. Kohli's absence kept the Dharamsala crowd quiet until the sixth over when things suddenly changed. (LIVE SCORECARD)
In the fifth ball of the sixth over, play was halted for some time as the ball had gone out of shape. It was in that period that the crowd suddenly found their voice and roared with glee as Kohli ran out to the middle and interacted with the players in the huddle. After giving the Indian team a vocal tonic, Kohli ran back to the dressing room.
Read more | Captain Ajinkya Rahane faces tough task in India vs Australia Dharamsala Test
During the lunch break, with Australia on 131/1, Kohli gave fans another reason to cheer as he participated in a warm-up session along with off-spinner Jayant Yadav. Short sprints were conducted near mid wicket and Kohli emerged winner.
In the pre-match press conference on Friday, Kohli had said that the team was winning despite him not contributing anything. In his absence, India will be hoping that the rest of the players stand up and secure victory against Australia.