'Ravi was furious. MS hadn't made even a token attempt at target': When Shastri blasted Dhoni for his slow innings
Jan 23, 2023 10:02 AM IST
Former India fielding coach R Sridhar, in his book, recalls the incident where former India head coach Ravi Shastri, during his tenure with the team in 2018, was left fuming at MS Dhoni for his sluggish knock during the ODI series against England in 2018.
Former India fielding coach R Sridhar's recently published book, 'Coaching Beyond: My Days with the Indian Cricket Team' has been filled with lot of anecdotes, insights and makes startling revelations as well, which gives readers a peek into the Indian dressing room. The most recent of those anecdotes includes the incident where former India head coach Ravi Shastri, during his tenure with the team in 2018, was left fuming at MS Dhoni for his sluggish knock during the ODI series against England in 2018.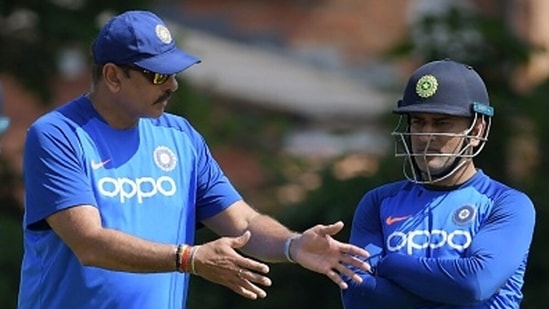 India had toured England for a full-fixture which comprised three T20Is, as many ODIs and the five-match Test series. After winning the T20I contest 2-1, India continued their momentum to grab victory in the first ODI match as well, winning by eight wickets in their chase of 269. However, the Virat Kohli-led side had lost the second game by a big margin of 86 runs.
ALSO READ: 'Today I'm told that pacers bowl just 30 balls…': Kapil Dev's no nonsense take on India's recent string of injuries
Recalling the match and the defeat, Sridhar revealed that Shastri cared less about the margin of loss or the result in that matter, but more about the approach of Dhoni in the chase. Set a target of 323, after Joe Root's 'bat-drop' knock of 113 runs, India remained in the fray to chase it down when Kohli had combined with Suresh Raina to stitch an 80-run partnership. But their dismissal in a space of five overs, along with Hardik Pandya's departure for just 21 runs, left Dhoni with the bulk of the chase. India still had 133 runs to chase from 66 balls.
"We were in the hunt when Virat and Suresh Raina were batting, but as we lost wickets, MS was left with only the bowlers for company going into the last 10 overs. Uncharacteristically, he shut shop, and even though our required rate in the last 10 was nearly 13 an over, we only managed some 20 runs in the next six overs. That was the innings when MS got to 10,000 ODI runs a very significant milestone. We were all thrilled for him, but we also wanted to know why he hadn't made even a token attempt at the target," Sridhar wrote.
Dhoni scored 37 runs off 59 balls with just two boundaries before being dismissed in the 47th over. India were eventually folded for 236 runs. Sridhar revealed that Shastri was not unhappy about the loss but was rather disappointed at Dhoni's approach in the chase and he knew that the former India captain would not escape the anger. Sridhar then revealed the fierce dressing-room speech in Headingley, ahead of the last match of the series, which though was said during the team meeting, but was directed straight at Dhoni.
"Ravi, meanwhile, was seething. He was furious not because we lost by 86 runs, but how we lost the game, how we went down without putting up a fight. We didn't go for the target, we didn't go down throwing a punch, we just went down tamely The head coach wasn't going to let that one sail harmlessly by," he added.
"The decider was in Headingley, and we had a team meeting the previous day. The entire squad was in attendance, including all members of the support staff, and I knew Ravi was going to make a strong point. He was at his loudest and fiercest as he said, 'No matter who you may be, there should not be another occasion when we lose a match not trying to win it. It will not happen under my watch. And if anyone does it, that will be the last bloody game of cricket they will play under my watch. You can lose a cricket game, no shame in that, but you will not lose like this.
Sridhar pointed out that while Shastri did not address Dhoni during his fierce pep talk, he made sure that he maintained eye contact with the former India captain throughout. But while Shastri's speech would have rattled any other cricket, Dhoni remained calm and ensured he followed each and every word that came out of the coach's mouth.
"MS was sitting right there in the front, and while Ravi's words were meant for the team, his eyes were trained on MS To the former skipper's great credit, he didn't flinch, he never broke eye contact with Ravi. He didn't look here and there or fidget because one of his many admirable qualities is his ability to take the knocks, especially when he knows in his heart of hearts that he deserves them," the former India fielding coach added.
Incidentally, a year later, Dhoni would play a similar knock, also against England, this time during the World Cup 2019. With India needing 71 to win off the final five overs to chase down a daunting target 338, Dhoni finished unbeaten on 42 off 31 balls as India fell short by 31 runs. Fans and experts trolled Dhoni for his approach, and while a section believed that it was done to make sure Pakistan did not qualify for the semifinal, a factor behind it was to make sure India's net run-rate did not take a dent.