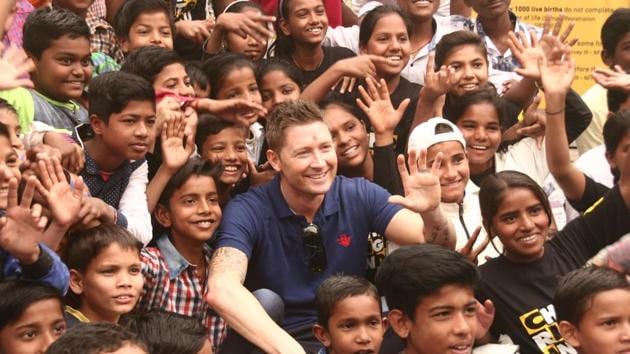 Virat Kohli's aggression his strength, says former Aussie captain Michael Clarke
Virat Kohli's aggressive ways finds support from Michael Clarke who feels the India captain is doing everything possible to find success.
UPDATED ON MAR 10, 2017 08:34 PM IST
Aggressive people will always support. Ever since the start of the India-Australia Test series, India captain Virat Kohli has come hard at the visitors and on some occasions, has been criticised by former players for overdoing it.
But to former Australia skipper Michael Clarke, aggression is something that drives Kohli and he finds nothing wrong with it.
Read more | Did India suffer brain fade in letting Aussies off in Dressing Room Review case?
"Virat's aggression is one of his greatest strengths, that's the way he likes to play and that's how he has had success, and that is the way he will continue to play," said Michael Clarke while meeting underprivileged children at a city slum, assembled by the NGO CRY.
"It is a fantastic series. Test cricket between India and Australia has always been competitive and I totally love that. I like India playing Australia whether in India or Australia, I love watching competitive cricket. And this series has been no different."
Read more | India vs Australia ODI series: David Saker to replace Darren Lehmann as coach
While the Australians are known to be fierce competitors, former skipper Steve Waugh, who was no less aggressive himself, spoke out against Kohli's attitude. According to Waugh, Kohli was overusing aggression.
As opposed to Waugh's opinion, Clarke, who once told English pacer James Anderson to worry about his arm during the Ashes, had tweeted his support for Kohli.
"Everybody's got their own opinion. I think Virat is going to do whatever he can to help India get success. India have had an amazing summer. They played some unbelievable cricket and Australia know that India are always tough in their backyard. Virat is the captain of the Indian team, he enjoys that challenge and he wants to see the team have success. He knows how this team plays at its best and thus the side has enjoyed rewards for the last four months," Clarke said.
'Starc injury to have huge impact'
Speaking on the rest of the series, Clarke feels Mitchell Starc's injury could be a huge loss to the visitors. While the Aussie spin duo of Nathan Lyon and Steve O'Keefe has managed to pick majority of wickets, Starc provided crucial breakthroughs and also played a match-winning innings at Pune.
"Mitchell Starc's injury will have a huge impact. He is that X factor of Australia team and he certainly will be missed. Who they bring in, I'm not sure. From here the game is even tougher for Australia but I'm sure they will be confident that they can win in these conditions," he said.
Read more | India, Australia bury hatchet in 'Cheat-gate' controversy over DRS
The pitches in the last two tests have been rank turners. Not only the Australians but the India batsmen struggled as well to come to terms with spin. Clarke hopes that the Ranchi pitch could be good for batting.
"Both teams have found it difficult to bat because the wickets have been tough. The ball has spun a lot, bounce has been inconsistent, so let's see what type of pitch we get in Ranchi. And if it's better for batting, we might see some runs scored," said Clarke, who signed off after facing a few deliveries from a few young girls.
Close